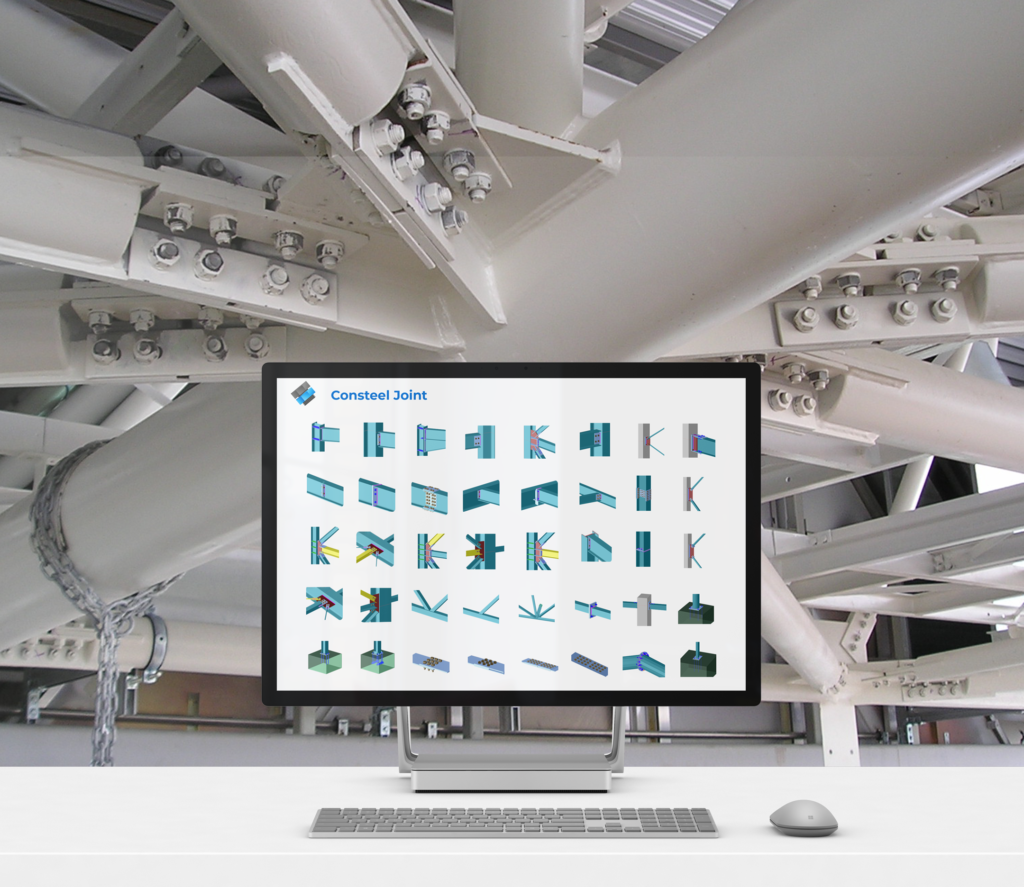 Exclusive

module for connection specialists

Dynamically developing wide variety of joint types

The module allows verifying the most commonly used connections in steel structures. The wide selection includes bolted and welded connections, pinned and moment connections, base details, truss connections and knee connections. The calculations are made in agreement with Eurocode. The module can be used both as a standalone application or as an integrated module of Consteel. When used integrated with Consteel, all the inputs for the verifications are automatically prepared, to keep perfect consistency with the main model and an efficient design process. Where Eurocode supports, connection rigidities are also calculated and can be considered in the main Consteel model for analysis and structural design. All verifications are completed with a detailed calculation printout. The finalized connections can be transferred to detailing systems using BIM Links.
Features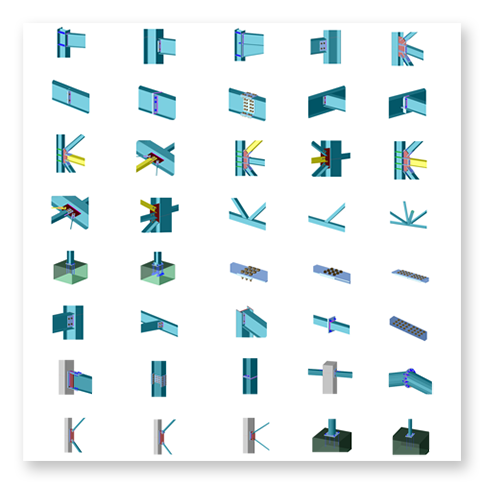 Verification of connections
The calculations are made in agreement with the component method introduced by Eurocode EN 1993-1-8. The resistance and stiffness of each relevant component is calculated individually and presented to the designer. The internal forces used for the verifications are automatically collected and transferred to Consteel Joint from every place of the main structure where the same connection is reused. Additionally manual input of internal forces is also possible.
The results shown on the screen are automatically and immediately updated, allowing a quick optimization, to find a suitable combination of bolt sizes and locations, different possible stiffeners and strengthening element arrangements. Weld sizes are calculated automatically but can be also entered manually.
Results and documentation
Every connection is shown in 3D, the change of values of parameters are immediately reflected on the graphics. All verifications are completed with a detailed calculation report visible on the screen and in the prepared calculation report, with all relevant information shown to allow a quick check of the calculation.
Detailed component resistance values are shown which helps the designer to fine-tune the resistance of the individual components to the desired level of resistance or stiffness. Warning and error messages indicate the possible collisions or inappropriate input values.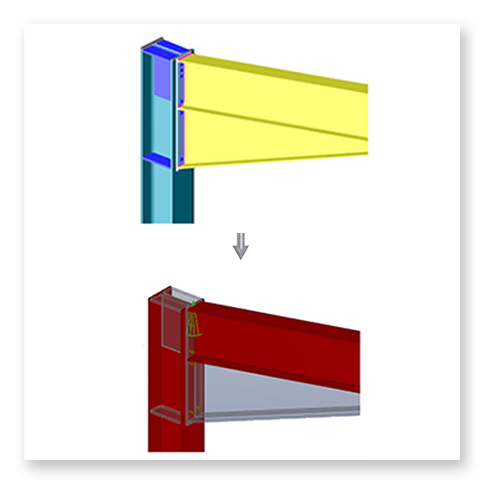 Joint export to Tekla structures
The connections designed and verified in Consteel Joint can be transferred into a Tekla Structures model, where suitable standard connection macro input dialogues are automatically filled with the parameters matching the designed connection, providing an error-safe and quick transfer of all relevant information from structural design to the detailing system. Complex connections can be transferred to IDEA Statica Connection software where a finite-element based solution can be obtained.
System requirements
| | Minimum | Recommended |
| --- | --- | --- |
| Processor | Intel i5 or equivalent | Intel i7 or equivalent |
| Memory | 4 GB | 16 GB |
| HDD space | 300 MB | 300 MB |
| Graphic card | 512 MB non-integrated | 2 GB non-integrated |
| Operating system | Windows 10 | Windows 10 |