From now, it is faster, easier, and more convenient to contact Consteel support, as the application form is now available directly from Consteel. The new development also allows users to send ideas or reach learning materials while working in Consteel. Let's see this feature more in-depth.
Extended Help menu
We have extended the top Help menu with different options according to your needs. The menu has been divided into two sections, the first includes links to the Online Manual, to the Descript Manual, and to a filtered selection of our Knowledge Base with tutorials and guides. No need to login to our website as it will be done automatically through Consteel if you use it with online protection.
The second section is for support-related requests. The "Get Support" command opens our Support system notification window to ask for help issues regarding Consteel. If you have trouble with licensing then you will need to click on the "Report licensing issue" command. We would like to hear your ideas regarding Consteel as well, so if you have any feedback, click on the "Send feedback" command and share your thoughts with us! Your email address will fill in automatically.

The new Help tab
We have implemented a new "Help" tab for the essential support-related requests into the graphical interface to make posting support issues more convenient.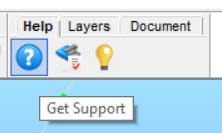 These support options are also available from the left bottom side of the Project Center.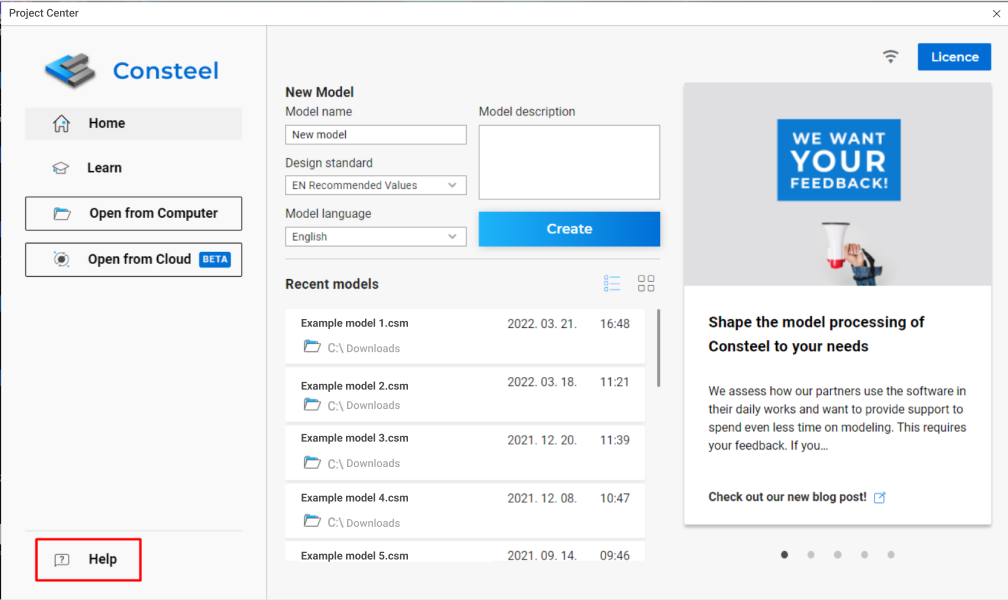 When you open a new support request, report a licensing issue, or request a feature, please add as much information as you can, so we can help you more effectively. If you are facing any issues, attach your Consteel model and screenshots to your request as well. If possible, please always include the version number of the Consteel you are currently using.
We hope you find our development useful. This feature is available for users with Pro or Premium memberships. Feel free to get in touch with us as we only can be better if we hear your feedback.
We assess how our partners use the software in their daily works and want to provide support to spend even less time on modeling. This requires your feedback. If you want to take part in shaping Consteel, fill out our 10-20 minutes questionnaire and be part of our updates.
We would like to better understand how our users use Consteel during modeling and their thoughts about the software's graphical interface. Your answers will help us to make the development of Consteel better and understand your experience.
The survey should only take 10-20 minutes and available in the following languages: English, German, Spanish, Polish, Greek, Romanian, Hungarian. Filling the survey is voluntary and anonymous.
The survey is closed thank you for your time.
Along with the release of Consteel 15, there are several new features and changes that affect the use of the software.
Consteel Joint ceases to be sold as a separate licence
With the release of Consteel 15, we will cease to sell, develop and maintain our Consteel Joint product under a separate license. The full functionality of steel connection design will continue to be available in our Consteel Full or Starter products. For our Consteel Joint users with active maintenance, we offer a special licensing solution for continued software use.
Introduction the subscription system
With the launch of Consteel 15, not only a new version has been released, but also a number of online services that our current sales system can no longer adequately cover. As a result, we have developed a new unified subscription system that includes access to the available online services, Consteel Community Membership levels, and different software access types.
We plan to switch to a subscription-based system from 2022 and contact you soon with the details. Until then, you can find out more about the new offers on our Offers and Plans page.
Extending online protection
The new Consteel 15 version will allow the use of online software protection, which will be available as part of the newly introduced subscription packages. Current users with USB dongle protection will also have the option to switch to online protection, but until then they will have to launch Consteel using the USB dongle.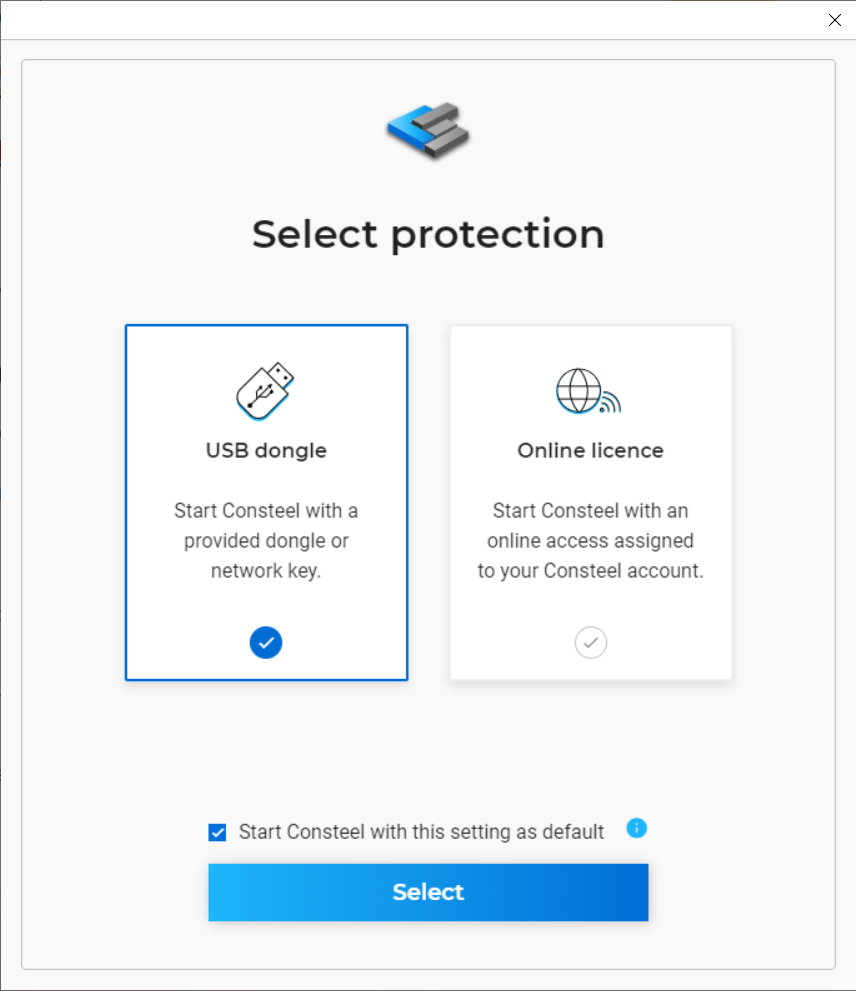 Access to online services
All of our users can now access storing and sharing models in the cloud and using Descript codes from the Script library as online services connected to Consteel 15. Until the introduction of the new subscription system, all of our users with software access can use these services with a Pro level Consteel Community Membership.
Our users with USB dongle protection only need to log in with the credentials created on our website. To access the services within the software, the login can be done via the Project Center by pressing the "Open from Cloud" button, when saving by selecting the "Cloud" option in the "File/Save As" option, or via the Descript interface.
After a long and intensive development period, we are glad to announce that Consteel 15 is out!
With the new developments, we tried to follow the most state-of-the-art trends in the software and structural engineering industry including the involvement of cloud services, API based scripting and parametrization possibilities, higher-level analysis options with simple model management, and many more. Accordingly, in the new release, you may find a couple of breakthrough developments along with some useful improvements making your work with Consteel more efficient, controlled, and comfortable. Let's take some time to browse the most important novelties listed below and start to experience the new version of Consteel!
What's new in Consteel 15?
Superbeam
Consteel has broadened the concept of traditional bar members with the Superbeam concept, which allows performing the analysis on two consistently generated calculation models (bar and shell model). The member model in Consteel 15 is still built-up with conventional 1D bar members, however, with the help of a simple switch, it is possible for any bar member with welded I-section to switch between using a conventional 7DOF bar or a shell finite element for the analysis (other section types are coming later). This makes it possible to examine certain structural parts more thoroughly with the accuracy of the 2D shell model while keeping the possibility of simple modeling and modification offered by 1D bar members. It is important to note that this finite element model change is fully automatic and can be reversed at any time.
Extended modeling of the bar members also allows the incorporation of details such as web cutouts and stiffeners into the model. The placed detail objects are also automatically converted into shell members and participate in the stress and buckling analysis.
It is possible to place three types of stiffeners:
perpendicular plate
perpendicular profile
parallel plate
The cutouts that can be placed anywhere on the web can also take three forms:
(Note: Structural design (global or member level) is available only for members calculated with beam finite elements. For members calculated with shell finite elements – similarly to other 2D members defined with shell elements – deformation and stress results are available.)
Project Center
From now, the new Project Center unites all the functionalities for model and account management, supplemented with easy access to personalized information and learning materials. Here you can create new models, easily browse your recent models, and open models stored on your computer or in your cloud storage. Searching for recent models is also facilitated by auto-generated preview images, which always show the most recently saved status of the models. Models from the cloud can be shared with other Consteel users with multilevel authorization, allowing full access to the shared model – view, save as and execute operations or calculations – or view-only access. In license info, you can view the details of the license you are accessing, set your preferences on the protection and software launch settings, or borrow an online protected license for offline use for a pre-determined period of time. In the new Info Hub area, customized information is provided highlighting news, upcoming events, software updates, release notes, blog articles, or learning materials. The learning center offers various learning materials and example models from the Knowledge base to deepen your expertise in using Consteel.
Cloud servicesBeta
No more file transferring is needed. Save and store your Consteel model and result files in the cloud and share them with others from Consteel to make collaboration easier.
Steelspace, your cloud service platform, will provide your models storing, sharing, and commenting options. With the new cloud-save and cloud-open possibilities, you can manage your models as if you had personal cloud storage right on your desktop. Your cloud-saved models will accumulate in this store and you can quickly view, access, open or share them also directly from Consteel. It is also possible to control the authorization level for shared models to ensure full access or more strict usage for a shared model.
Service Center
A place where you can easily access our structured knowledge and experience in structural analysis, standard design methods, and the recent modern technologies of the construction industry.
User Manuals: include detailed descriptions of Consteel features and Descript functions to get familiar with them in a new online form with easy navigation between topics, search, detailed guides, and feedback options to share your ideas and needs with us.
Knowledge Base: a well-curated collection of learning materials and models of different types and levels to help your understanding of how to develop an effective design workflow in Consteel. It includes guides for how to start with Consteel, tips & tricks for best practices, example models to try out features, user guides for in-depth theory and application theory backgrounds for diving into the scientific background of a specific Consteel solution, and many more.
Script Library: an all-around selection of multilevel scripting solutions. Includes a wide range of prepared Descript examples which are ready to go to use in Consteel and speed up the workflow. Covers also many Grasshopper scripts to utilize parametric design with Pangolin and show the best practices. Introduces also various scripts for advanced users to take advantage of the power of Consteel API.
Access for users to the Service Center materials is based on the Consteel Community Membership levels.
Online protection and license management
The online software protection system has been expanded to all users from students, individual professionals to design offices with greater teams.
The new developments ensure smooth and convenient license management to cover all necessary services coming with the new Subscription plans and Consteel Community Membership system as well. It has been also integrated into Consteel therefore one can always check the actual license status either in Consteel or in the personal account on our website.
Customers with Team subscriptions can use a new online license management tool to control the allocation of software seats and accesses to end-users, providing much more flexible and optimal software use within the company.
Consteel API
API is the acronym for Application Programming Interface, which is a software intermediary that allows two applications to talk to each other.
Why APIs matter in steel design?
With the power of coding, the API supports actions such as retrieving and creating cross-sections, structural members, supports, link elements, loads, and much more types of model objects. The API can read and write model files and even communicate with a running Consteel instance and enables users to interact with the Consteel model through their own code instead of the graphical user interface, making complex tasks less time-consuming.
If you would like to enhance your workflow with the Consteel API, don't hesitate to contact us.
MyDescript Programming Environment
A custom-built and now updated programing language and personal scripting environment used directly inside Consteel to speed up your workflow.
The Descript script language (former csPI) was designed to assist the needs of a structural engineer and to be a powerful tool to create access, and manipulate flexibly model objects and operations or calculations on them. Allows for automation of tedious or hard tasks that do not have specific preexisting solutions, but which can be done with Descript's toolset. The MyDescript interface, the personal scripting environment in Consteel gives the opportunity to create or add your own Descript files or gain access with your online account to more scripting solutions from the Script Library. A detailed Descript manual is also provided to help get started with scripting.
Pangolin 2.0
The Pangolin plugin integrates the creation and analysis of Consteel models into Rhino-Grasshopper parametric modeling environment.
The Pangolin plug-in allows you to create a Consteel model directly in Grasshopper, with profiles, supports, loads, and all the features and functions available in Consteel. This model can then be uploaded to the cloud via Steelspace, or even directly to Consteel. The live connection between Grasshopper and Consteel also allows us to supplement the model built in Consteel with additional elements and loads in Grasshopper, of course also in a parametric way.
The new 2.0 update includes:
Load the results of the first and second-order analysis and the global design (code-design) back into the Grasshopper model. The transfered data includes stresses, buckling eigenvalues, deformations, deformed shapes, including buckling shapes. The design results include the dominant results, along with the resulting load combination, as well as all sub-results for each finite element checked.
Download Pangolin and try for free from here. It will need Rhino-Grasshopper to run.
Open SAF models
A new file format has been added to the range of formats that can be read by Consteel. This is SAF (Structural Analysis Format), an Excel-based, open exchange format developed by the Nemetschek Group and already supported by many other engineering and architect software as well. It is intended to improve the collaboration between structural engineers on the one hand, and different disciplines on the other, by developing an open exchange format for exchanging structural analysis data (static model and loads) between FEA and CAD programs.
With Consteel 15, engineers are now able to open structural analysis models exported in SAF format (files have a .xlsx extension in this format) that are directly converted to a Consteel model in the process.
Member-coloring by cross-sections
A new possibility has been added to the visualization of the structural model: the representation of the model colored according to the sections. In Consteel 15, each section is automatically assigned a unique color when the section is loaded, which can of course be changed later. Colors are also assigned when models from previous versions are opened. On the right side of the status bar is a new switch to toggle between default and section-based coloring.
More informative visualization of results
We have further developed the visualization of the model and the results for easier interpretation and better visual appearance.
Projected stress diagram
In the section module, the stress diagrams can now be displayed in a new, three-dimensional representation, thus helping to better understand the stress state of the section.
Smooth and realistic deformation representation
In Consteel 15, the real 3D behavior of the structure can be better seen thanks to our improvements in the representation of the deformations. In the new version, we no longer depict the displacement of the finite elements and their twisting around its axis, but the actual displacements of each corner point of the cross-section, including the effect of the section distortion due to the seventh degree of freedom. All these results in continuous, clearer and nicer deformation shapes, and as well as deformation shapes similar to the plate model, even in the case of bar members.
Colored internal force diagrams
Among the ways of displaying internal force and displacement diagrams, the possibility of colored diagrams has appeared. Negative values are displayed in blue and positive values in red, providing better comprehensibility when reviewing results.
Buckling sensitivity results
The results of the buckling sensitivity analysis are aided by the fact that they can now be seen on the actual buckling shapes. In this way, the critical elements can immediately show the mode of deflection that caused it.
Additional improvements
Multiplying loads into new load cases
The creation of moving loads has been made easier by a new option in the copy function, which allows you to copy the selected loads within the same load case or into new load cases, as well. In the latter case, each copy of the load is placed in a new load case that is automatically generated within the same load group.
Constraint elements
In connection with the Superbeam concept, the constraint element was also introduced in Consteel. These elements cannot be created manually at this time, they can only be created automatically by the following functions and displayed in the finite element model:
frame corner: the constraint element existed also before but was not visible to the user.
converting a bar member to a shell finite element calculation model, the constraint elements are placed and displayed to define the shell-bar transition.
Renewal of member releases (hinges)
The modeling of the member end releases (hinges) was also renewed with the introduction of a new zero-length finite element. The handling of the member end releases is removed from the member finite element and transferred to a new release finite element located between the member end and the connecting structural elements. This does not involve any change for the user during modeling, everything happens automatically during the creation of the finite element model. However, this change, which was needed to make the deformations more realistic (see above), has some changes that are also visible and positive for users:
Loads causing a change in length (temperature, fire, tension) can now be applied to a member whose axial end displacement is released
Different displacements of members with different end releases connecting into the same node can also be displayed more realistic.
Expanding the visibility switches
We have expanded the number of visibility switches that control the display of model objects. 6 new switches have been added to the new, expanded settings window, so you can now control the visibility of all structural objects. The new switches are:
constraints (new object)
rigid body
diaphragm
purlin line
stiffener (new object)
cutout (new object)
Improvement of load transfer surfaces
The load distribution control algorithm of the load transfer surfaces has been further developed to encounter as few error messages as possible, usually due to modeling inaccuracies, in the day-to-day work of the engineer.
As a result, we can also encounter fewer problems with models that we have imported into Consteel from other programs and often contain small inaccuracies that may have caused an error in the finite element model.
Part 2 – Supplementary services
Goal of the supplementary services
Serving the clients does not end with developing a good software product for them. This is especially true for structural analysis and design software for two main reasons:
these products cover quite wide and complex engineering workflows from model building with realistic mechanical conditions (supports, connectivity, loads, etc.) through structural analysis to documented standard design checks;
the inappropriate use of these complex tools can result in unsafe solutions with very serious consequences which are generally the responsibility of the end-users.
Accordingly, from the end user's point of view, the main goal of the supplementary services is to make their work with the software safe and efficient. These aspects are usually conflicting and fulfilling them requires a solid knowledge not only in the general structural mechanics and standard design methods but in the software-specific solutions as well which are typically not evident.
Learning and maintaining the proper use of structural analysis and design software requires considerable time from the user and a considerable amount of services from the software vendor. However, it is certainly worth investing in this on both sides since it immediately pays off in more effective and faster lead-time design projects. On the other hand, the longer and deeper learning of the proper use of the software (so the more invested time and energy in to be a professional in a specific software product) strengthen the engagement of the users which is the primary goal of the software producers. In the following section, it is presented how we want to implement and manage these services and how we think about user engagement.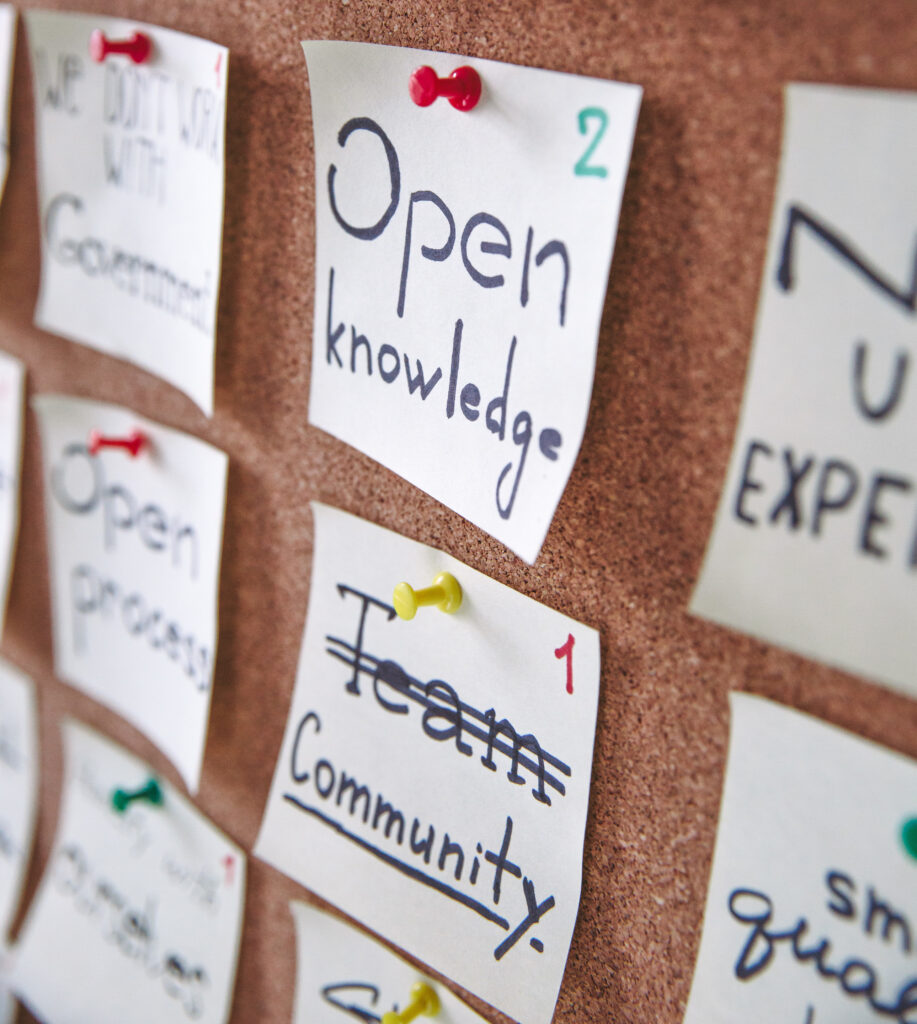 Consteel Community Membership
At Consteel we strongly believe in the power of the community which in our case means that if we – software developers and end-users – agree on our common values and goals and share our talents and knowledge then we, together could be much more successful than individually.
Accordingly, we think that our connection to our customers should not be a one-way channel but a two-way, engaged relationship where we share our best knowledge in the form of modern software and supplementary services and our customers' response to us by their practical expertise in the form of opinions, needs, workflows, projects, etc. This relationship is more than a simple subscription to software, it is already a membership organization.
According to Wikipedia the membership organizations "… typically have a particular purpose, which involves connecting people around a particular profession, industry, activity, interest, mission or geographical location. This might simply be to encourage or facilitate interaction and collaboration, but it also often involves promoting and enhancing the purpose itself." And this is exactly what we want – and also this is part of our mission statement:
"We want to support a new generation of user community where the governing working rules are collaboration and knowledge sharing. Our dream is to connect demands and solutions, users and developers, models and calculations from all over the world to help a truly efficient design workflow utilizing the power of the engineering community."
So we change our previous system for the support, maintenance, and upgrades and collect our supplementary services into a multilevel Consteel Community Membership system. In close accordance with our new licensing system where we would provide the software license only for users subscribed to the access of the newest version (no permanent license without a subscription), we aim to form a community of engaged users with the kind of behavior described above, because we think that this can be much more efficient than a simple subscription system.
Community engagement has different levels from the passive, one-way information flow type relationship through the bridge-building, reactive type involvement until the fully integrative and cooperative engagement. The latter one is the most desirable transformational and game-changing way of collaboration and we want to have our users step up from the lower levels to this one within the Consteel Community Membership. So we have implemented the environment and tools for our supplementary services to be able to support this vision, it will be presented a little bit more in detail in the next section.
Provided services
There are a couple of factors influencing the user's satisfaction and engagements, the most important ones are the followings:
There are a couple of factors influencing the user's satisfaction and engagements, the most important ones are the following:
Software quality, updates
Flexible licensing
Level and quality of support
Supplementary services

Usual classic services:

Learning materials
Trainings
Events (user days, competitions, etc.)
Feedback channels (surveys, fast feedback systems, etc.)

Advanced services from Consteel
Most of the above list does not need any explanation, but some key features of them connected to community building are worth discussing. First, a general point is presented regarding the availability of the services, and then the background, aims and some content of the two special services – cloud and scripting – introduced this year will be explained.
Important to note that we are fully dedicated to developing further the services not only by continuously increasing the contents but by widening the ways and channels to shape our community engagement.
Exclusivity of services
An important feature of good membership organizations or communities is that members feel privileged to belong to that community. This privileged status can be efficiently strengthened by making the valuable services available exclusively to the members. Also, it is a well-known fact that people value much more what they pay for.
Customers tend to forget or postpone activities in services offered for free – a typical example is a participation in free webinars, which is generally a fraction only of the number of applicants. They feel more directly the value of – and accordingly they are more active in – paid services which in turn highly increase their engagement and their community participation. It is also important to see that the production and promotion of these services are costly activities usually requiring our best experts and this is basically covered by the payments of our users.
Since it is our primary goal to increase the community engagement of our users, we will reserve our most valuable services exclusively to the members of our membership organization and will not make them available freely for everybody like it is now usual. Some of these services – mainly the classic learning materials – will be available in our new Service Center, but several other types are planned to complement the software features.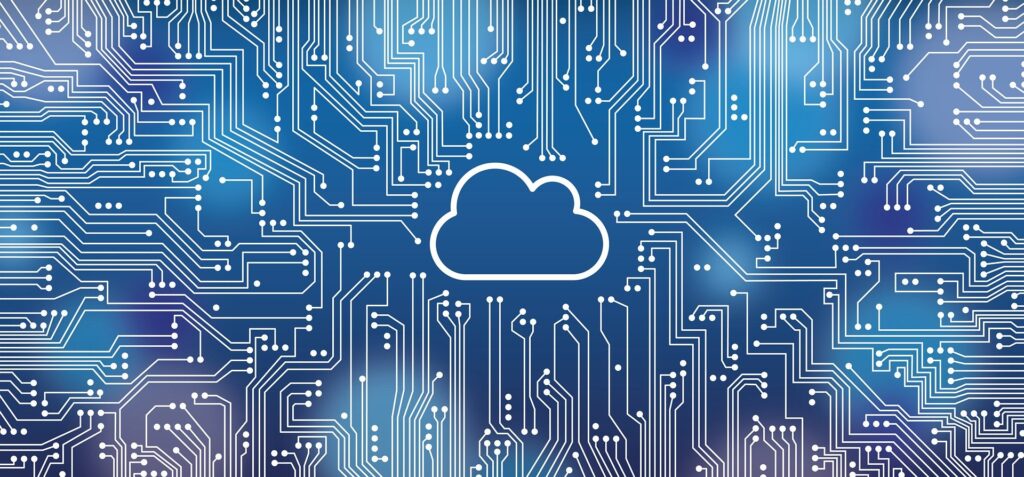 Cloud services
With our brand-new cloud services, we want our customers to move outside of their computers and have them be more open to using online services. We see a huge potential in the cloud services and accordingly invest more and more into it, placing special features here, which are thought to be much more efficient to use in that way than as an in-built desktop software functionality.
On the other hand, we think (and hope) that the use of cloud services supports the culture of sharing and feedback within the structural design workflows which we see as a quite rare and far not universal characteristic of today's structural engineering communities (unlike the software developers' communities where it is a very general feature). So our unconcealed goal with the cloud services is to help our users to step ahead in the development of community engagement.
In the first phase, we will provide a very easy way of cloud save, store and open complete Consteel models together with a comprehensive opportunity for sharing them with colleagues either in the cloud or even in Consteel. The users can conveniently access their models from the office computer, from the home laptop, or from practically anywhere and from any device using their online protected software. The structured, cloud-stored, and properly access-managed shared models can be the basis of a real collaborative workflow in a design project, in an engineering office, or even in a university course.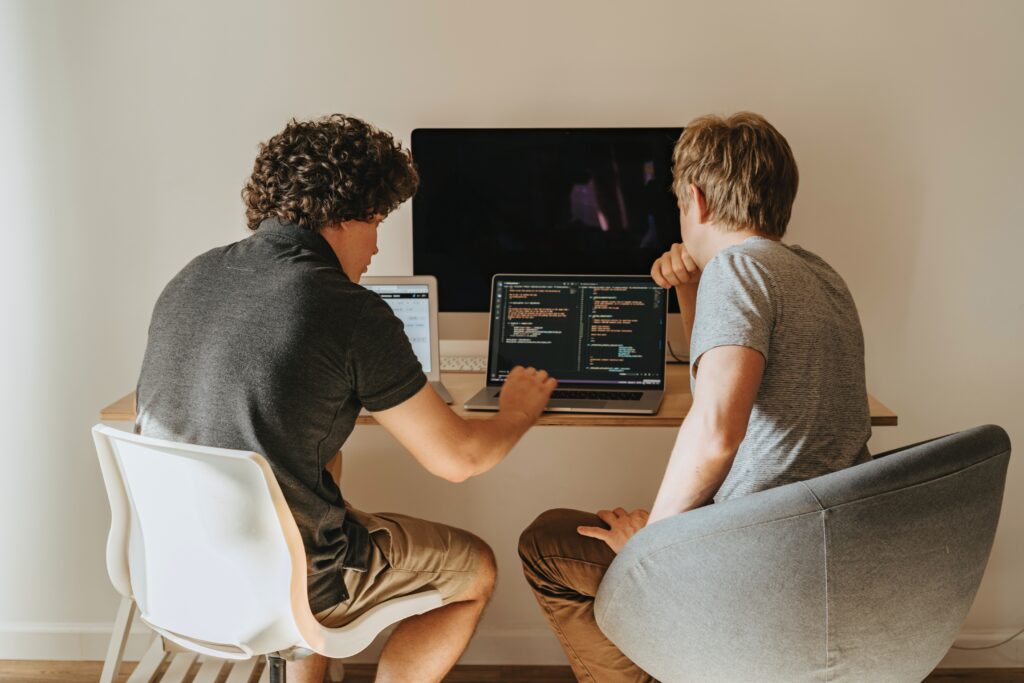 Scripting services
Scripting techniques are a very progressive and efficient way to control and manage model creation, modification, and calculations. Last year we presented our Grasshopper plugin, Pangolin, opening the way for Grasshopper users to build a complete, parametric Consteel model ready to analyze and design. But before that, a few years ago, we had introduced in Consteel a unique, in-built scripting tool with an internal programming environment. Our intention with this development was to offer an introductory scripting tool directly for structural engineers not fully familiar with these techniques and this is what we call now Descript.
To make it convenient to use for the structural engineers working in Consteel principally, Descript has been developed as a programming language following closely in its logics and syntaxes the structure of the Consteel objects with their attributes, and the operations. Also, the programming environment is placed inside the UI of Consteel so there is no need for any external code development environment. This environment is now completely reworked and supplemented with several supporting services making it even more transparent and easy to use.
The scripting workflow in Descript will be supported by a new, comprehensive manual with several simple code examples. In the brand new Script Library, continuously growing number of Descript codes are collected providing useful supplementary functionalities at different levels of complexity. The most important novelty is the MyDescript interface in Consteel, where all the codes in the Script Library can be accessed, executed, or saved, and further modified or developed according to the level of membership of the user.
These services are designed to get our users to start working with scripting techniques to make their workflows more standardized, thoughtful, and efficient. As a future perspective, we plan here also to exploit the power of the community by providing a place for the members of the Consteel Community to share, comment, rate, and improve the Descript codes of each other.
We are really excited to let you know that Steelspace has launched! We believe that cloud-based services are the future! Our colleague had already written a great post about how cloud services can accelerate our workflow. We think structural design experience could be so much more if we take advantage of the opportunities of the cloud.
Just a few of the many benefits of moving services and data to the cloud:
the user saves time and resources,
their work is more secure,
and collaboration between multiple users is much smoother and easier
We are confident that engineering work is facing a similar transformation and we want to be one of the inducers of this process with our latest development.

What is Steelspace?
Steelspace is a cloud-based storing, sharing and service providing open platform for structural models and their analysis or design results.
Users are immediately able to upload, store and view structural models from Grasshopper Pangolin and from Consteel and share them with colleagues having also Steelspace account. On the models in Steelspace several structural analysis and design calculation packages can be executed which are available for and compatible with the uploaded model.
Not sure how to export your model to Steelspace? Check our quick guides on Youtube!
The system is still under development and we will make sure to continuously improve our services. If you interested, head to Steelspace.io and give it a try! You can log in with your Consteel account if you already have one or just register for free.
We are open to collaborations as well! If you have a great idea or solution to implenet in Steelspace, don't hesitate to contact us!
Steelspace
We are glad to let you know that Consteel 14 is out! We have expanded the boundaries of the latest version of Consteel and not just developed new features for Consteel, but created a plugin for Rhino-Grasshopper, and redesigned our website to serve better for our users' needs.
What's new in Consteel 14?
Overall Imperfection Method
Stability design based on imperfections is becoming more prevalent as modern architecture poses an increasing challenge to structural designers with its unusual, innovative, and non-conventional solutions. Global buckling shapes of the structure can be used as starting data to geometric imperfections. However, in addition to imperfection shapes, it is also necessary to determine their amplitudes, but the design standards do not provide much help for this, as it yields a solution for only simple column buckling problems. In the case of real, complex structures, the value of the imperfection amplitude cannot be calculated in this way. The new method we have developed, the Overall Imperfection Method, provides a solution to this.
We introduced a new sensitivity test called the Imperfection Sensitivity test. Using the results from this new test, we also automatically obtain the value of the required amplitude multiplier for the application of the buckling shapes as imperfection. Thus, the imperfection based stability design can already be performed automatically and quickly in Consteel as the design based on strength reduction factors in the general method.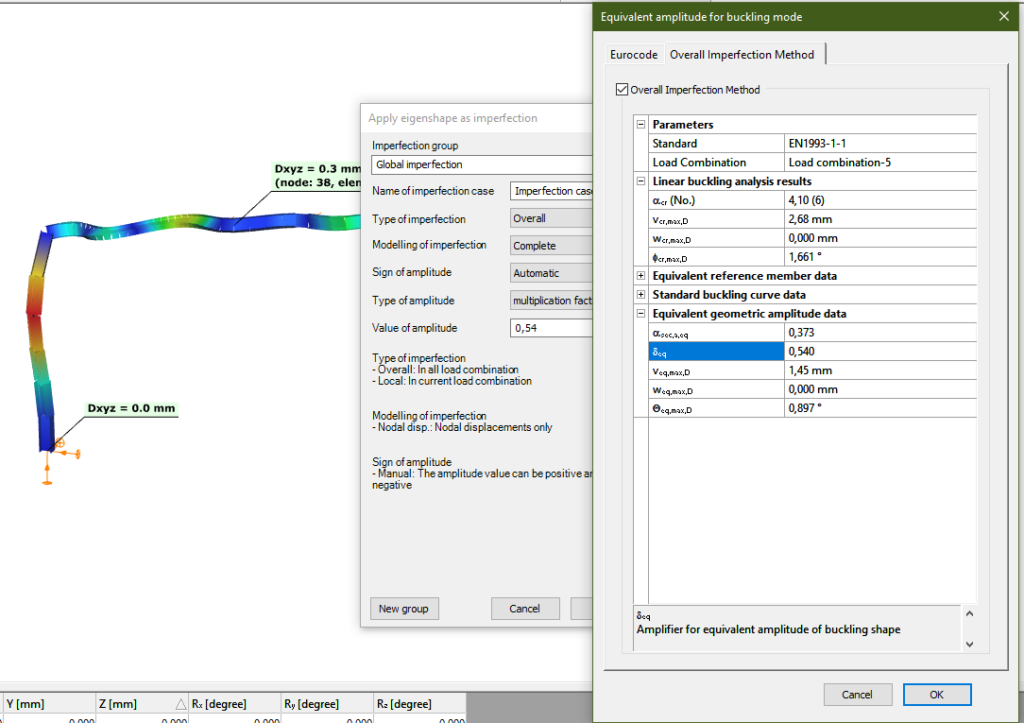 Smart Link
A new type of link element has been implemented into Consteel, the smart beam-beam link element, which greatly simplifies the modeling of the eccentric connection of two bypassing members. Typically, this is the case with the connection between the main beam and purlins. With this new object, we can place link elements at specific points in the main beam, and we can easily connect other beams to their other end point, based on the predefined parameters of the eccentricity. In the case of any change in geometry or profile, the link element follows the modification of the main beam, together with the purlin attached to it. The link elements can be placed individually or in groups with a predetermined arrangement along the main beam.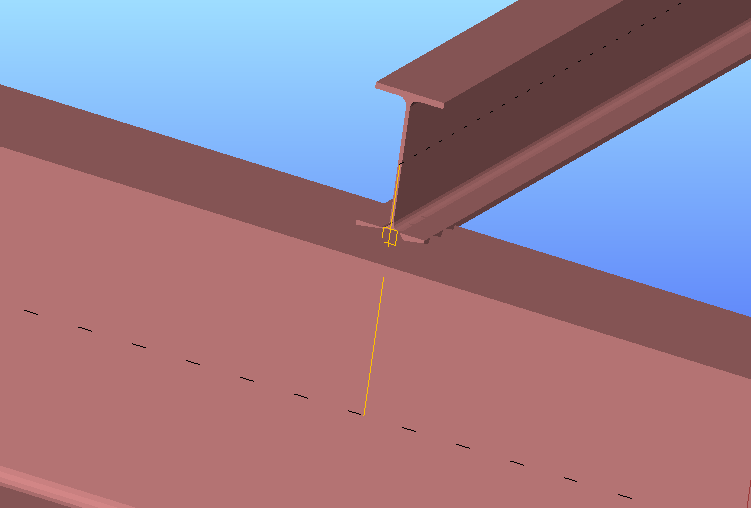 Linearly variable distributed surface load
The available types of surface loads have been expanded with a linearly variable type of distributed load. From now on, the definition of snow accumulation loads will be much easier than before. In this case also, the load can be applied over the entire surface or only on a delimited part of it. The desired load pattern of a roof can be assembled with several surface loads of different intensities linked to a single load-transfer surface spanning over the entire roof.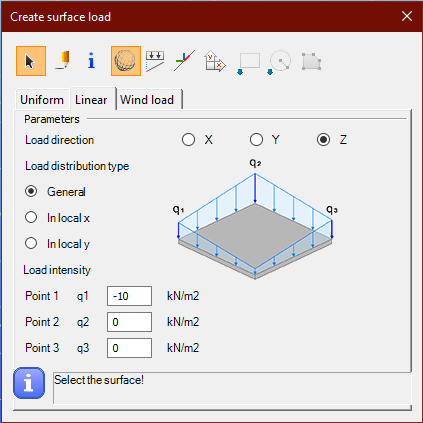 Critical temperature
We have also implemented the calculation of the critical temperature, which is an important parameter of the design in fire situation. The critical temperature is the temperature at which, due to that heating, the material properties are reduced to such an extent that the load-bearing capacity of the element is exhausted at a given load. It means that the value of utilization is just 100%. If fire protection is to be achieved with fire-protection intumescent painting, this value is the basis for specifying the appropriate material and layer thickness.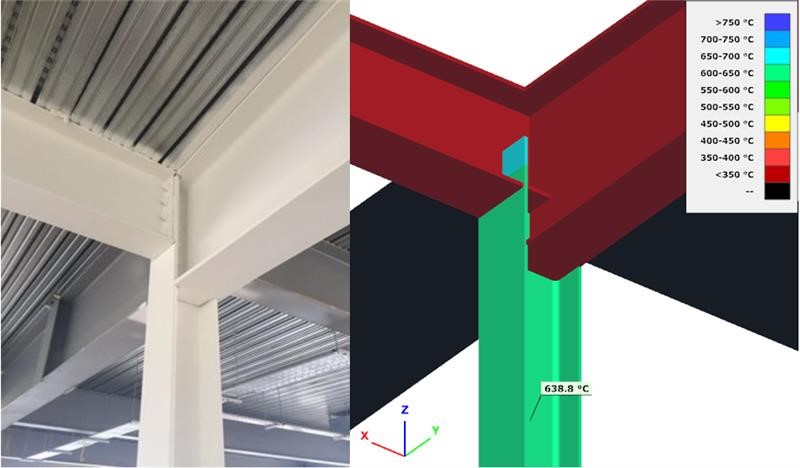 The critical temperature must be calculated differently for the strength and stability analysis. Consteel can perform both calculations and the result will be the lower of the two calculations, i.e. the design value.
Pangolin plugin for Grasshopper
In the intuitive and revolutionary parametric geometric modeling environment of Grasshopper, it has already been possible to create any spatial model that can be described by mathematical functions. The new plugin we have developed for this environment allows us to develop the geometric model directly into the Consteel model right in the Grasshopper, endowing it with gauges, supports, loads, and all the elements and features available in the Consteel. This model can then be uploaded directly to Consteel. The model thus adopted only needs to be run in Consteel, because the modeling can be carried out in a parametric way in Grasshopper. If you need to change somewhere in the geometry or loads, you can do so by changing a few parameters, and then passing the model that has changed in this way to Consteel, you can run the analysis again immediately. The live connection between Grasshopper and Consteel also makes it possible to supplement the model built in Consteel with additional elements and loads in Grasshopper, of course also in a parametric way.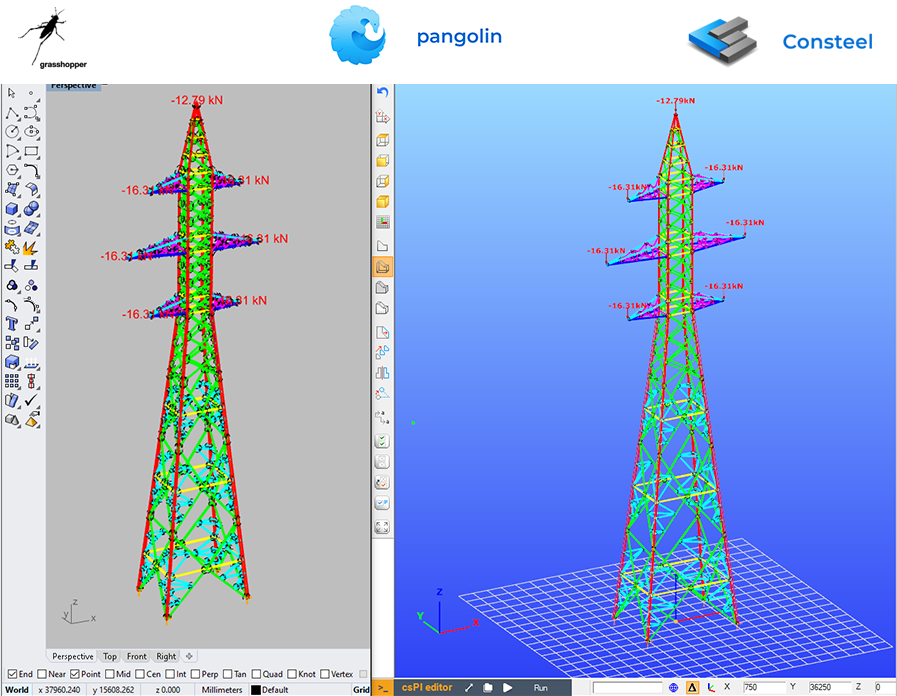 Online user account and licence system
Along with the release of Consteel 14, we are also launching our new website which will offer a continuously growing personal space for registered users so there will be an opportunity to track your licenses, to send error messages to our support team and even upload your own csPI codes. We provide a continuously expanding set of materials, including different tutorials and learning materials, some of which will be available for registered users exclusively. Our aim is to create a centralized user experience. It is important to note that uploading csPI codes will only be available later in time.
Regarding our self-developed online license management system, the main advantage in this development is that from now on there is no need to differentiate between a local and a network license, as the user can use the purchased license on any computer where an internet connection is available. For larger companies where multiple licenses are used, a user with administrative rights can control the allocation of licenses to each engineer. This will make the use of licenses much more flexible within the company.
It is important to note that this option will only be available to students and trial users for the time being. However, in addition to continuous improvement, we will gradually make it available to other users in the future. The hardware keys used so far remain usable. It is up to the user to decide whether they want to switch to the new licensing mode and return their dongle or stay with the previous protection system.
We hope you like our new developments and features!
Is Consteel new to you?
Get started with one of our easy and quick tutorials on our YouTube channel!
youtube
These days everyone is getting prepared for something: the children are waiting for the summer break, university students are preparing for their last exams, the rest is waiting for re-openings. We at Consteel, we are busy with preparing Consteel 14, along with Pangolin (Consteel's new Grasshopper plugin) while still working from our homes.
We did a small interview with a few of our colleagues on the getting-ready phase.
How do you feel about Consteel 14 on a scale of 1-14, where 1= Meh 14= I can't wait for the users to see it! ?
The team's answers average is 11, which means we are pretty close to the finish!
Let's see what our colleagues, working in different areas said.
Software Engineer
What are you responsible for, regarding the new version?
Pangolin, and the new Managed API underpinning it.
Pick something that you did (and is related to Consteel 14) and are especially proud of?
The Managed API, which will make programming ConSteel models from the outside possible in the ubiquitous .Net framework.
What are you working on right now?
Can you remember the hardest part during the development of something for Consteel 14 (if you want to / can name such)?
Solving various conflicts between Consteel's and Grasshopper's design philosophy in a non-confusing way.
Can you remember the greatest moment during the development of something for Consteel 14 (if you can/would like to, you can explain it a bit)?
Calculating the first 100% Pangolin created model.
How far away in time does the launch feel like?
How do your workdays look like? (Are you getting busier and busier each day or is it constantly easy/hard)?
Busier and busier as every change affects more and more.
Recommendation for the users to check out first after downloading Consteel 14?
Anything else, that you would like to share about getting prepared for the new version launch?
Pangolin is immense but unrefined. The sooner and more you use it, the more suggestions and bug reports you to give us, the faster will it get better.
Development Engineer
What are you responsible for, regarding the new version?
Engineering background and functional planning for critical temperature calculation and linearly distributed surface load. coordination of the development of the new features I have tested the new features of ConSteel and created verification examples related to the new functionalities.
Pick something that you did (and is related to Consteel 14) and are especially proud of?
I think the intumescent paint design function is pretty thorough. It is unique that we calculate critical temperatures for every finite element. Also, I think it's quite reassuring that we automatically check back the critical temperature with the design utilization. It was a team effort, so I can't take all the credit, but I think it turned out great.
What are you working on right now?
Testing of design calculation improvements.
How far away in time does the launch feel like?
Feels like it's right around the corner compared to the months of development.
How do your workdays look like? (Are you getting busier and busier each day or is it constantly easy/hard)?
Software Engineer
What are you responsible for, regarding the new version?
Coordination of the development of the new features I have tested the new features of ConSteel and created verification examples related to the new functionalities.
Pick something that you did (and is related to Consteel 14) and are especially proud of?
Load distribution of the linear surface load, calculation of the critical temperature.
What are you working on right now?
Can you remember the hardest part during the development of something for Consteel 14 (if you want to / can name such)?
Correcting the wrong codes of someone else.
How far away in time does the launch feel like?
Recommendation for the users to check out first after downloading Consteel 14?
Development Engineer
What are you responsible for, regarding the new version?
I have tested the new features of ConSteel and created verification examples related to the new functionalities.
Pick something that you did (and is related to Consteel 14) and are especially proud of?
I have written the system design document of the Beam – Beam Link Element.
What are you working on right now?
I am working on the verification of the effective section properties of the cold-formed sections.
How do your workdays look like? (Are you getting busier and busier each day or is it constantly easy/hard)?
Sometimes it is very easy, but there are days when I am very busy.
Software Engineer
What are you responsible for, regarding the new version?
Developing the smart link / beam-beam link feature, testing other new features, writing descript code.
Pick something that you did (and is related to Consteel 14) and are especially proud of?
Smart link / beam-beam link.
What are you working on right now?
Can you remember the greatest moment during the development of something for Consteel 14 (if you can/would like to, you can explain it a bit)?
When the engineering team is vocally satisfied.
How far away in time does the launch feel like?
How do your workdays look like? (Are you getting busier and busier each day or is it constantly easy/hard)?
It's definitely getting busier
Recommendation for the users to check out first after downloading Consteel 14?
Smart link / beam-beam link 🙂
UX/UI designer
What are you responsible for, regarding the new version?
New website's design and some other design related material.
Pick something that you did (and is related to Consteel 14) and are especially proud of?
What are you working on right now?
Refreshing our product brochures.
Can you remember the hardest part during the development of something for Consteel 14 (if you want to / can name such)?
Designing the new website.
Can you remember the greatest moment during the development of something for Consteel 14 (if you can/would like to, you can explain it a bit)?
When I finished the logo for the Pangolin plugin.
How far away in time does the launch feel like?
How do your workdays look like? (Are you getting busier and busier each day or is it constantly easy/hard)?
It's like a roller coaster from January. But with deadlines approaching, it becomes busier.
Recommendation for the users to check out first after downloading Consteel 14?
Register on our website. 🙂
As you can see, Consteel 14 will be out soon, and its development happens with multiple dedicated experts' input. We can't wait for the launch, stay tuned to get notified when you can access Consteel 14!
The annual ConSteel distributor meeting took place in Budapest in early February 2020.
The meeting was about reviewing 2019, assessing the results of the past year and to discuss the plans for 2020.
Our goals for the new year were set, which we presented to the distributors, as well as the new programs and opportunities of ConSteel were introduced.
Besides, the meeting allowed everyone to grow their international relationships. We are glad that last year two distributor partners joined the ConSteel community, representing Romania and Finland. This means that two more countries have direct Consteel contacts and support providers in their homeland, which is a great benefit for the users.
This year six of our distributor partners participated in the event, representing Greece and Malta, Germany, Romania, Poland and Spain.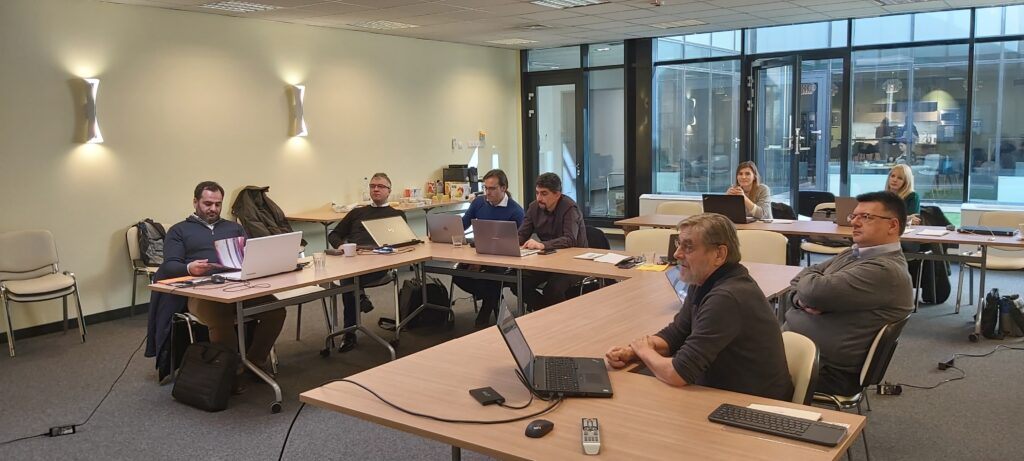 On day one, the marketing and sales tasks were on the table, besides the annual reports and set goals were discussed, then the partners participated in a workshop to share their opinions and ideas about ConSteel's existing and future developments.
We announced the winner of the ConSteel Distributor of 2019 award: this year the winning partner was ERGOCAD from Greece. The company has been a leader in licence sales for years as well as they take care of keeping the good reputation of ConSteel with their expert communication.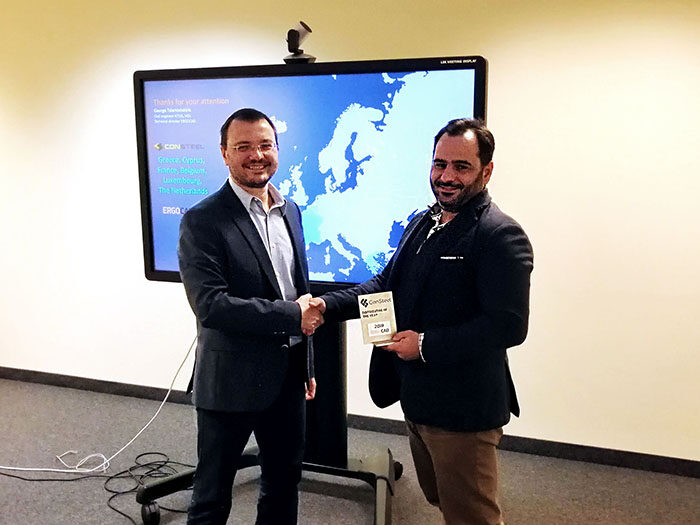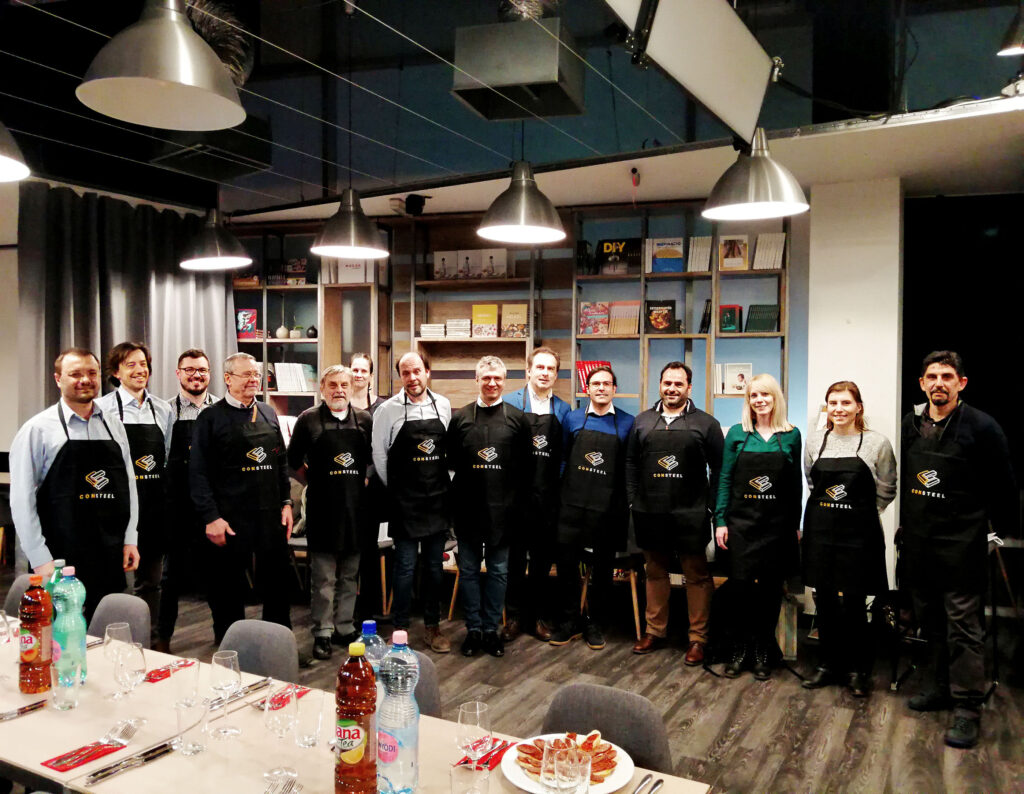 On day 2 the meeting took place in a SkyBox Conference room in the recently built Puskás Ferenc Stadium.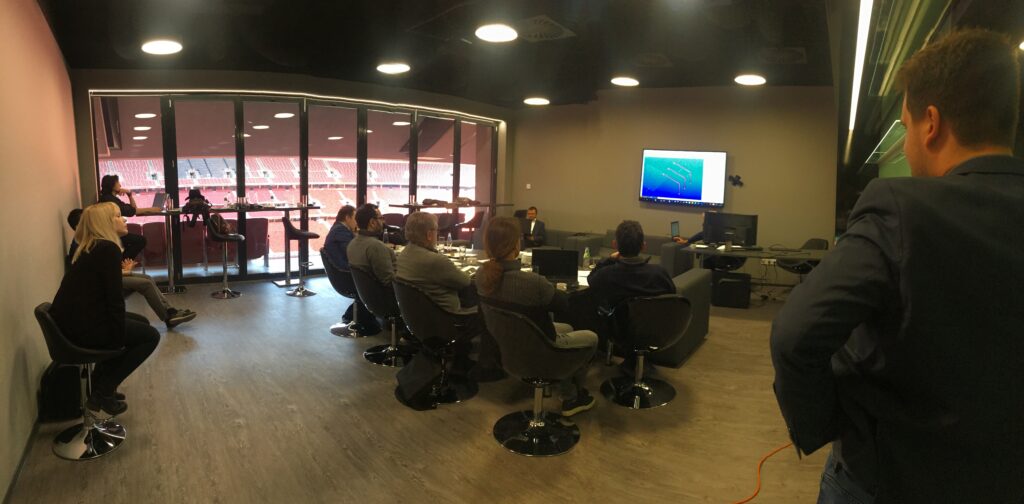 This day was dedicated to present the new directions of the developments and innovations of the software which the parters greeted with genuine interest. The novelties of the upcoming version of ConSteel, ConSteel 14 were presented, as well as other developments and software relations were introduced.
As a final program of the meeting, we had a tour around the stadium, being able to visit the highest point – built with beautiful steel structures, the VIP areas and the pitch as well.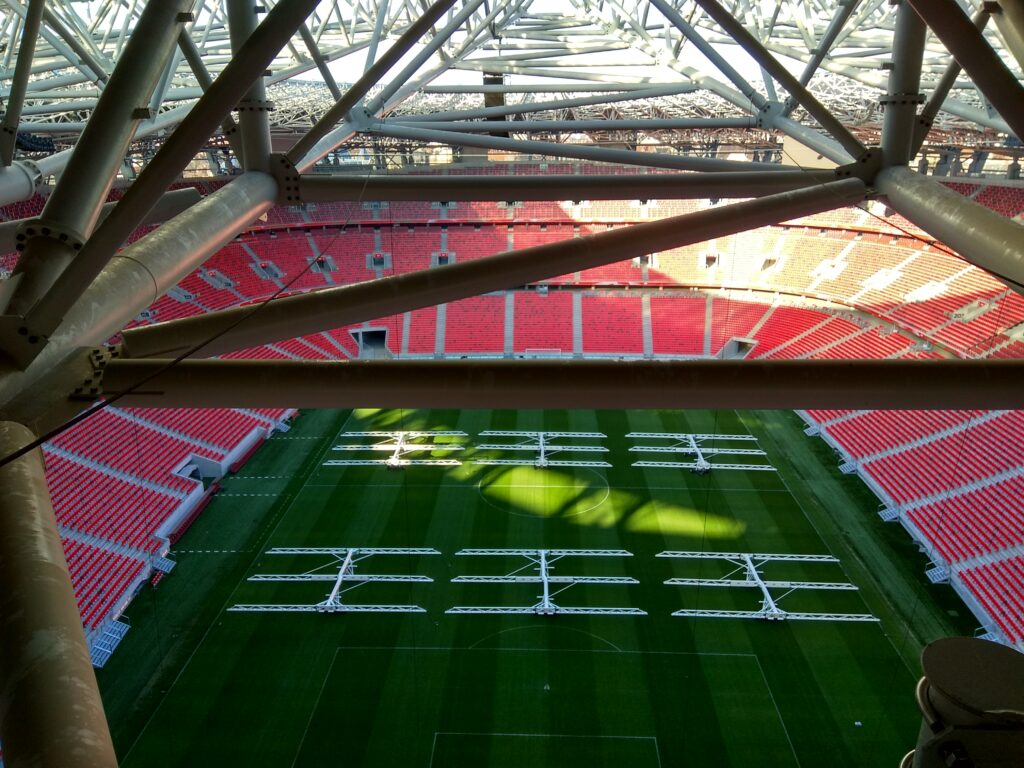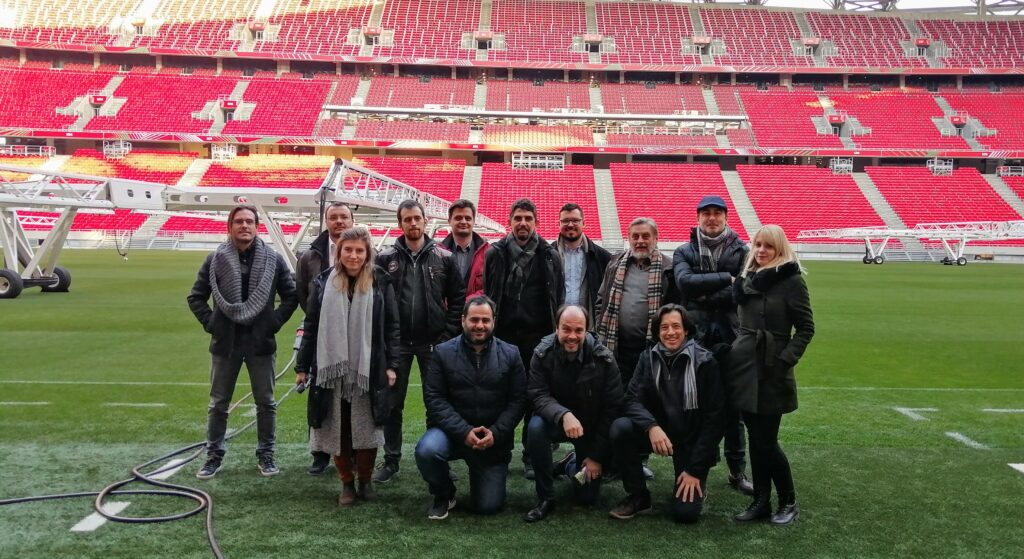 We are pleased to announce that the R&D project called "CFSExpert" led by ConSteel Solution Ltd. has won financial support on the EUROSTARS-2 international R&D funding programme.
The value of the winner project is indicated by the fact that up to now only 22 Hungarian participants won from a total of 182 submissions, which is only a 12% success rate, moreover, in the last 11th call only the ConSteel Solutions Ltd. was awarded from the Hungarian applicants.
What is EUROSTARS?
Eurostars supports international innovative projects led by research and development- performing small- and medium-sized enterprises (R&D-performing SMEs). With its bottom-up approach, Eurostars supports the development of rapidly marketable innovative products, processes and services that help improve the daily lives of people around the world. Eurostars has been carefully developed to meet the specific needs of SMEs. It is an ideal first step in international cooperation, enabling small businesses to combine and share expertise and benefit from working beyond national borders. Eurostars is a joint programme between EUREKA and the European Commission, co-funded from the national budgets of 36 Eurostars Participating States and Partner Countries and by the European Union through Horizon 2020. In the 2014-2020 period, it has a total public budget of €1.14 billion. These programmes are highly market-oriented, which means that in addition to high-level R&D content, a well-grounded marketing strategy and business plan must be submitted. Proposals are ranked centrally by the EU and evaluated by committees of independent international experts.

The winner project
Title:CFSExpert – Structural design tool for cold-formed steel structures
Consortium:ConSteel Solutions Ltd. – Hungary – consortium leader
Universitatea Politehnica Timișoara – Romania
Gordias Srl. – Romania
Date:01.01.2020 – 31.12.2021
The goal of the project is to develop straightforward software tools for practising engineers to use in their projects including cold-formed steel (CFS) profiles of general shape, according to a design based on Eurocode 3 concept. The software is based on an innovative design process which integrates the specific modern mechanical analysis of CFS members (Constrained Finite Strip Method – cFSM) with existing and newly developed design procedures. The software tools will be launched at three levels for different types of target users having the same calculation core including the developed new innovative design methodology. Accordingly, the main R&D result of the project is in this special calculation core, but for the support of an efficient marketing and sales process, it is also aimed to implement it into three different types of software realization. The CFSExpert Structure is a design package implemented into the ConSteel 3D analysis and design software as an additional module for the design of cold formed sections within a general 3D steel structural model. The CFSExpert Member is a stand-alone software configuration to handle a single element, with simply supported or continuous statical system, with specific graphical input and output features limited to cold-formed profiles. The CFSExpert Engine is a "black-box" calculation engine, without graphical user interface, but having standard easy-to-use input-output interface suitable for implementing into any existing or new-to-develop specific design software tools. It is strongly believed that these three different software realizations provide the most efficient way for serving the largest part of practising engineers with the innovation implemented into the calculation core.