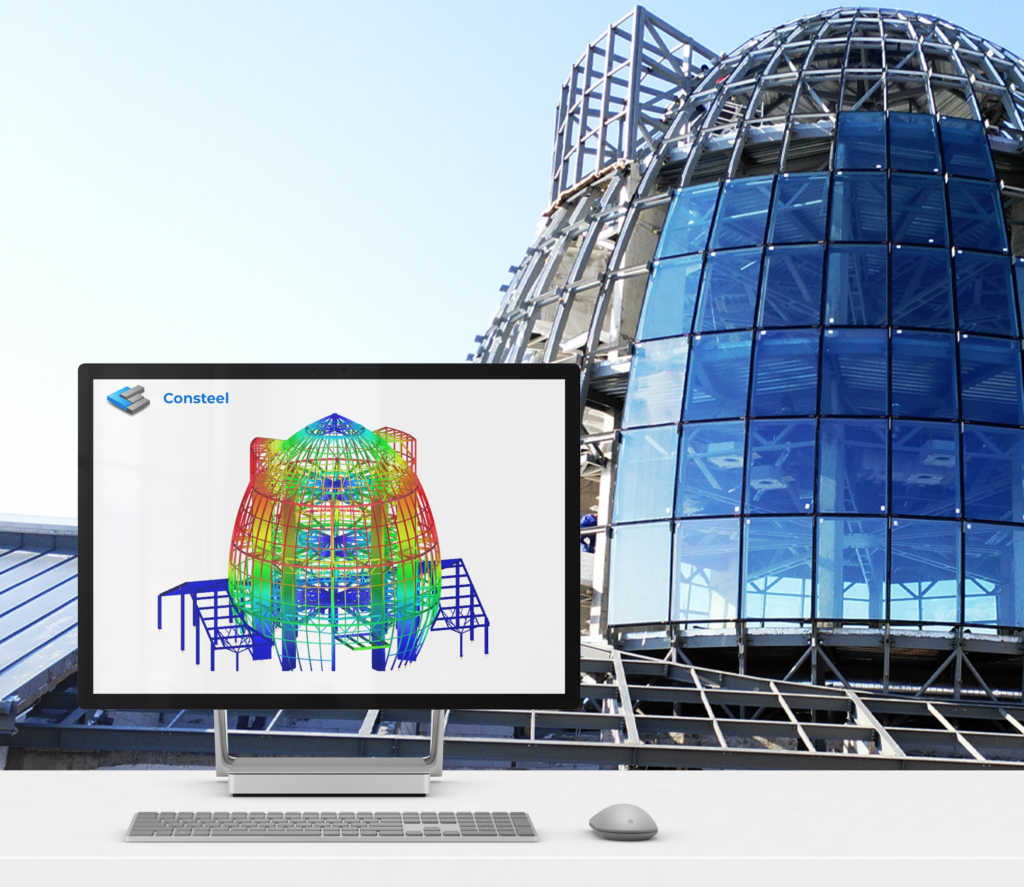 Use Consteel for your next project and realise a different level of work
Consteel is a unique structural analysis and design software for steel, composite and RC structures. Its main strength is the possibility to perform an automated stability design for steel structures based on a precise 3D structural model complete with all eccentricities and connection rigidities. Consteel has an integrated joint design module that covers the most commonly used connection types.
Features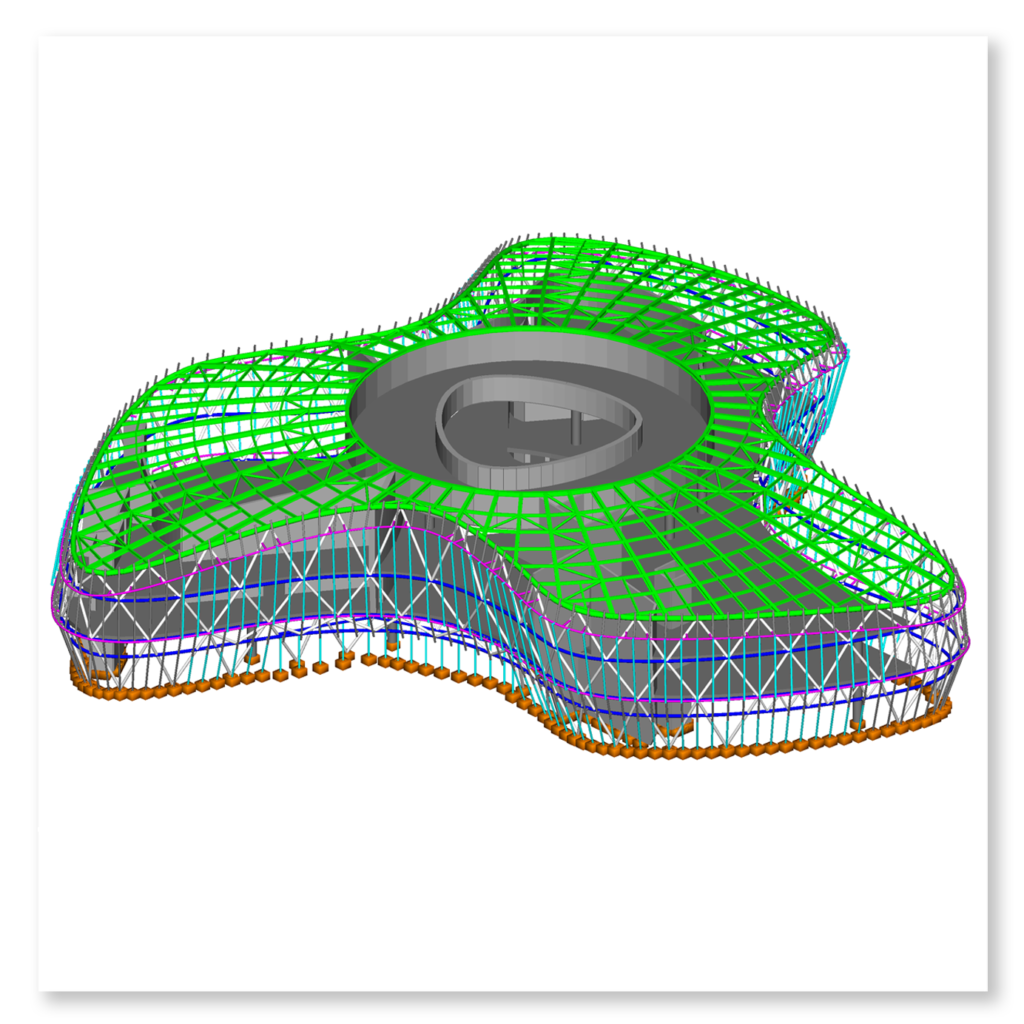 Global modelling
Enjoy the
freedom

of realistic structural modelling!

Realistic modelling: put the members, supports and loads to their exact position, connect them realistically considering any kind of eccentricities.

Select your cross-sections from a wide range of predefined standard libraries, create any steel, concrete or composite sections easily by the parametric wizards or draw your own unique thin-walled profile.

Easily insert special objects such as haunches, tapered members or shear fields and apply automatically crane, meteorological, earthquake or imperfection loads.

Create model portions for the primary and secondary bearing system, or for the bracing elements in order to govern different design scenarios.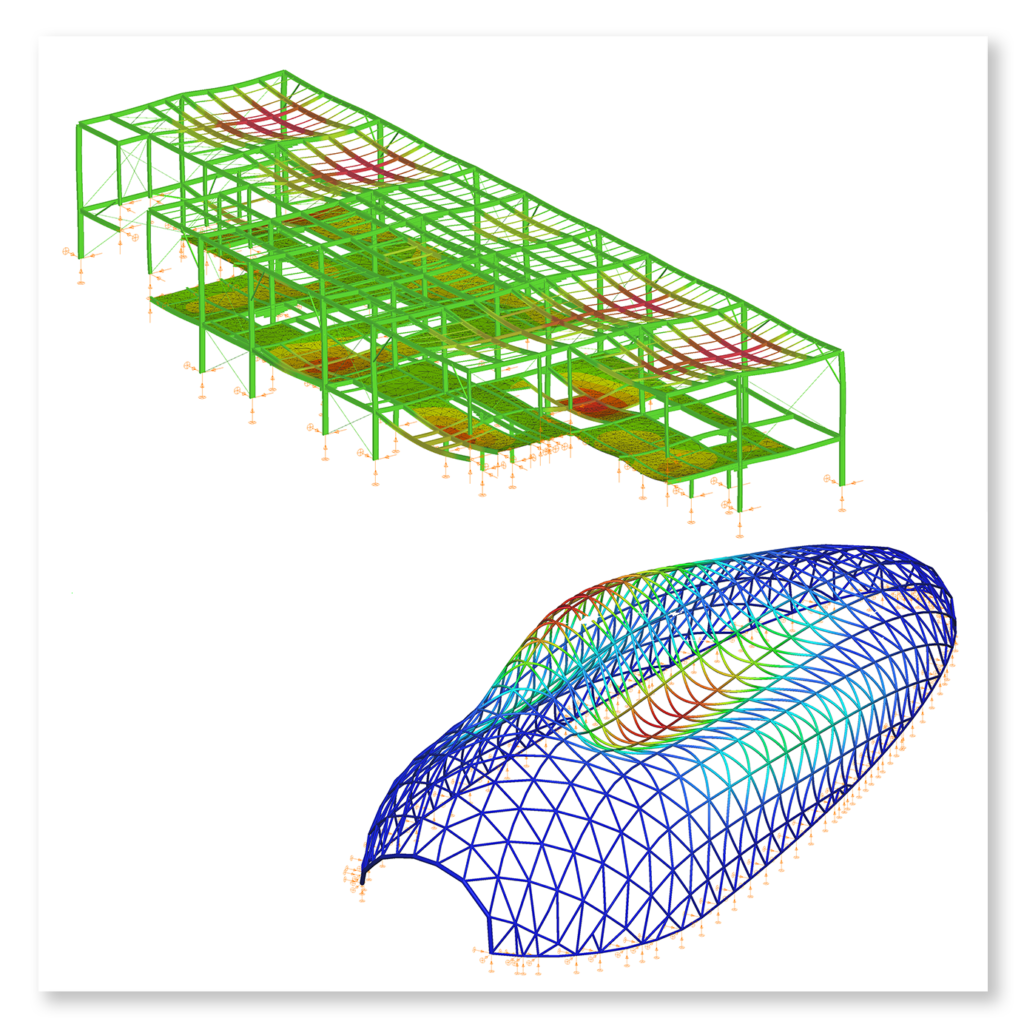 Analysis
Understand

the real behavior of your model!

You model – we calculate: the precise structural model is transformed automatically into beam or shell finite elements and with link elements for member eccentricities. Consteel provides a wide range and versatile calculation possibility for the mechanical analysis of your structural model.

Uniquely, Consteel is the only structural design software that uses the special 7 DOF beam element for all the global structural analysis types. That makes Consteel incomparably applicable for the analysis and design of steel structures. Beyond the usual analysis options, several additional specific calculations are available. These are elastic first- and second-order analysis, linear buckling analysis, plastic hinge analysis, dynamic modal analysis.

Special and unique analysis types like automatic imperfection analysis, buckling sensitivity analysis or dominant seismic analysis complete the range of available options. The obtained analysis results are directly linked to the design module responsible for completing the design process, without any need to transfer results between software modules manually.
Steel design
Check the performance of your steel structural model
automatically

!

Using the analysis results extended with warping deformations precise stress distribution is calculated for any kind of cross-section, including also thin-walled cold-formed sections. Section resistances can be calculated using Eurocode 3 or AISC 360 standards. Buckling verification can be performed either by using imperfections or by reduction factors.

To use buckling shapes as global imperfections, a unique automatic scaling is built into Consteel. Out-of-plane buckling is performed using the most advanced and most general approach of Eurocode called General Method, supported with the results of the integrated stability analysis. Besides the advanced global stability verification, a more traditional approach on member level is also available.

Design can be performed also in fire condition. All the results with references to the applied standard chapters and formulas are clearly shown and documented.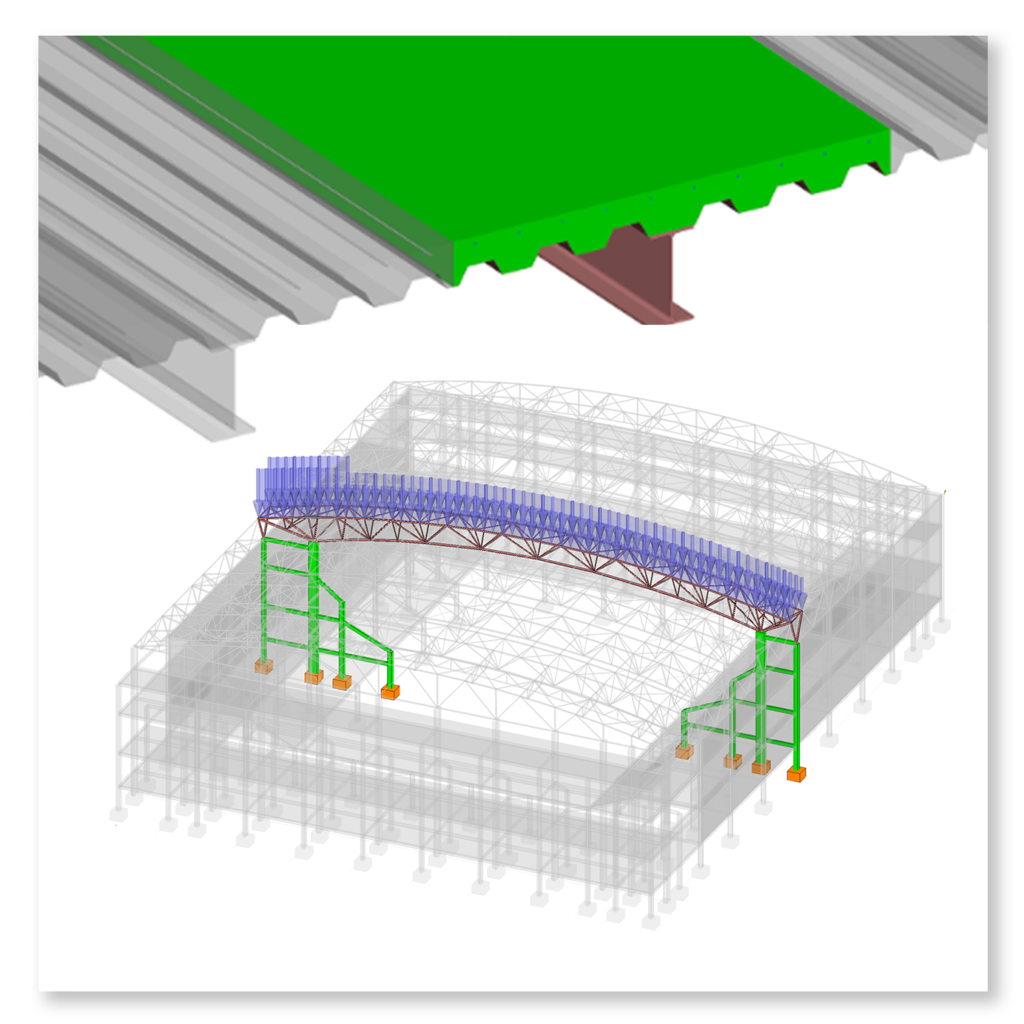 Reinforced concrete and composite design
Verify

the RC and composite members of your model!

Concrete and composite elements included in the 3D analysis model can also be designed in Consteel, using the analysis results consistent with the main steel structure.

This includes the determination of required reinforcement for beams, column and plates and the calculation of number of distribution of shear studs for composite beams, based on the Eurocode.

Stability verification of RC or composite columns can be done using imperfections and second order analysis.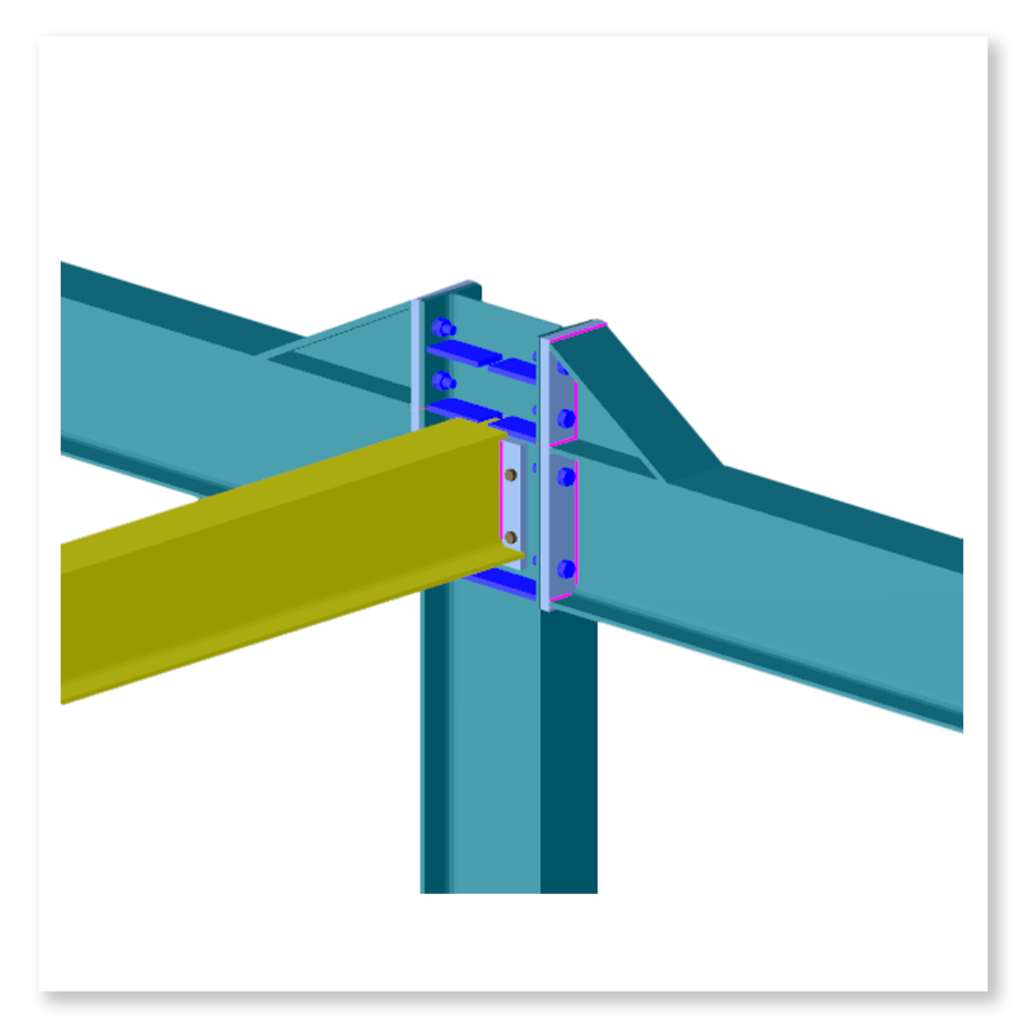 Connection design
Complete

your design with the comprehensive check of the structural connections!

A structural connection design module is integrated into Consteel which makes possible to have all the connections checked and keep up-to-date while the structural model evolves.

Connections are designed with analytical formulas in accordance with Eurocode 3. Link to IDEA Statica is also available, for finite elements based results. Calculated connection stiffness values can be automatically incorporated into the Consteel main analysis model.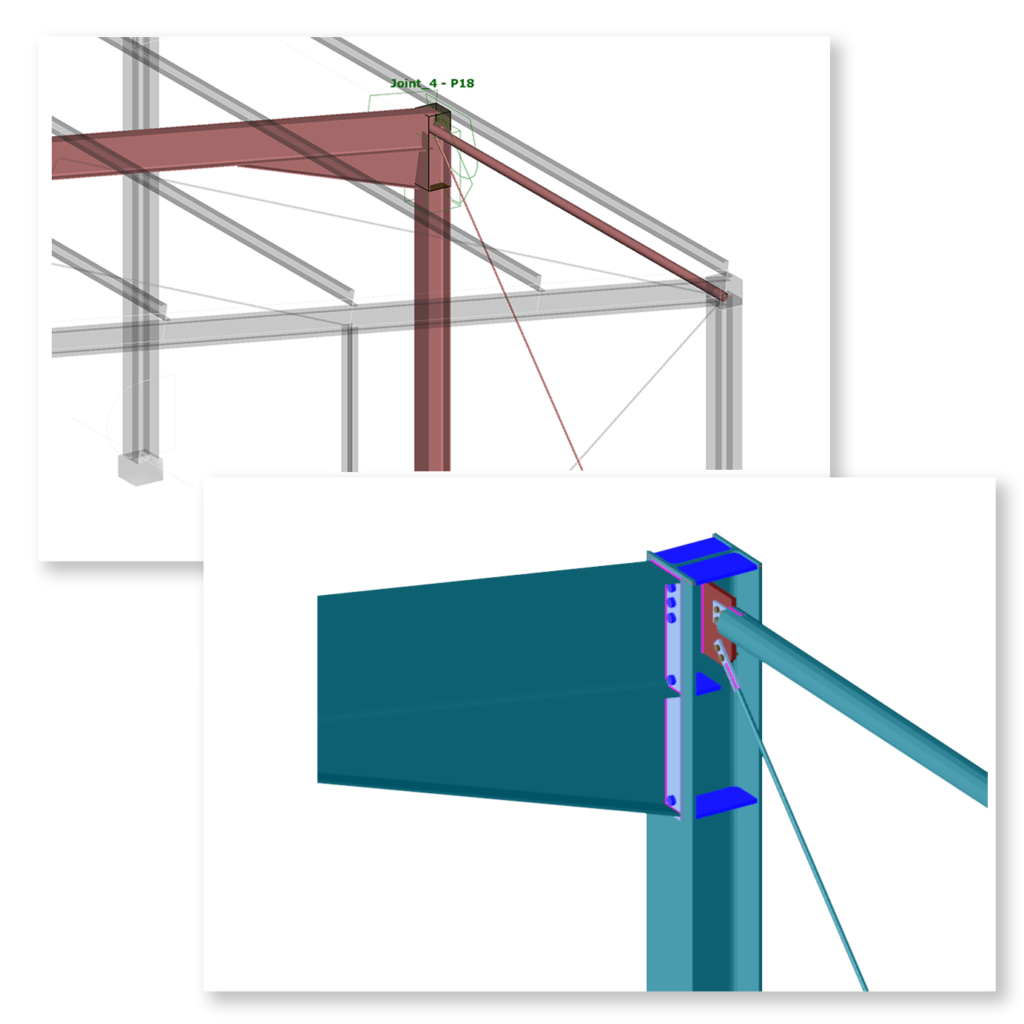 Structure-joint interaction
Integrate

connections with the global model in the design process!

The most up-to-date structural design procedures take into account the mechanical interaction between the global structural model and its connections (rigid, semi-rigid or pinned) which generally makes the results more economic and realistic.

In Consteel, using the optional connection design module, all the connection types can be defined freely or based on the global model geometry using the automatic identification tool, which examines the position of the connected members, the proper cross-sections and offers the possible connections.

After the definition, they can be placed back to the global model and the appropriate connection stiffness can be automatically used in the global analysis, while the joints are always rechecked based on the current analysis results.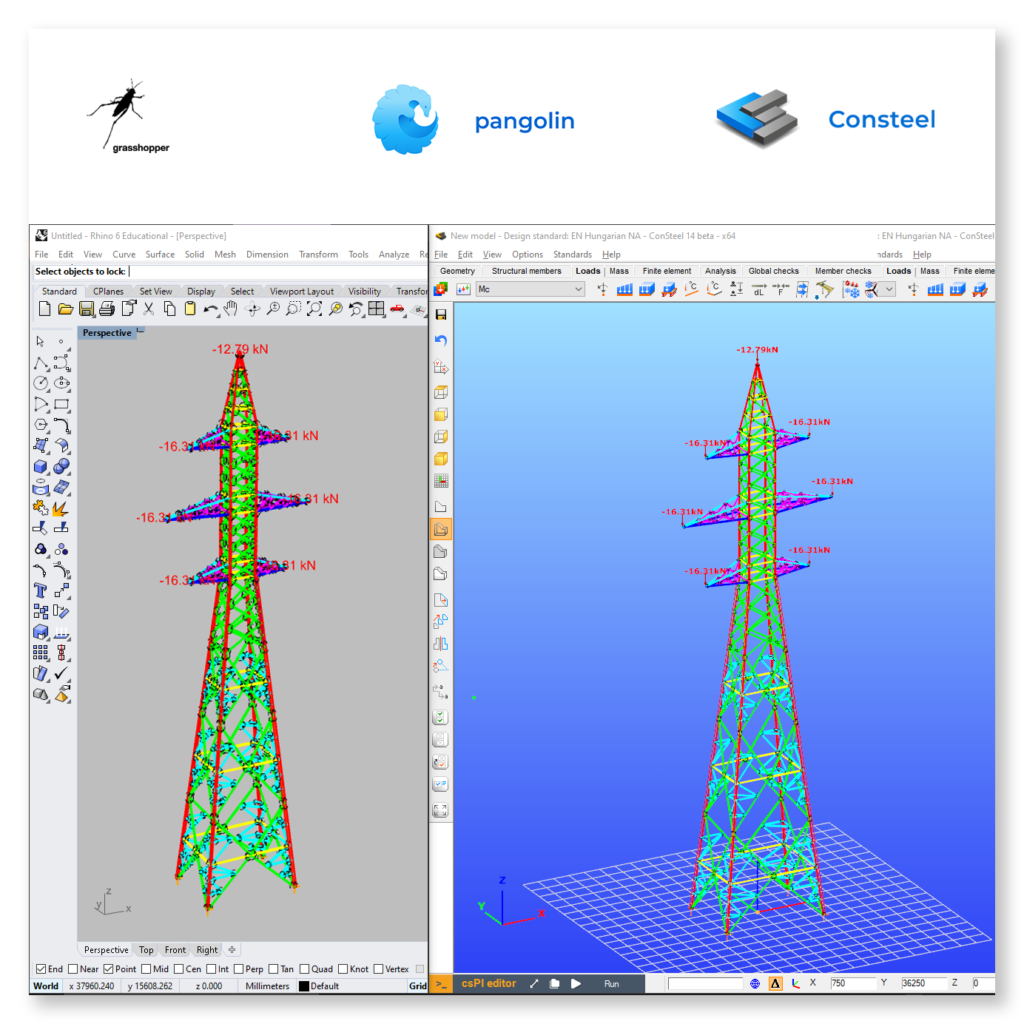 BIM links
Exchange

models with other software!

Smooth data transition between different kinds of software is a key for productivity and efficiency, and Consteel can give you that through its BIM links.

It supports data exchange through reading and writing IFC (2×3) files. It also has an advanced link with Tekla Structures, which not only provides import and export functionality, but change management too. The high-level integration with the parametric models created in Rhino-Grasshopper is provided by the unique plugin called Pangolin.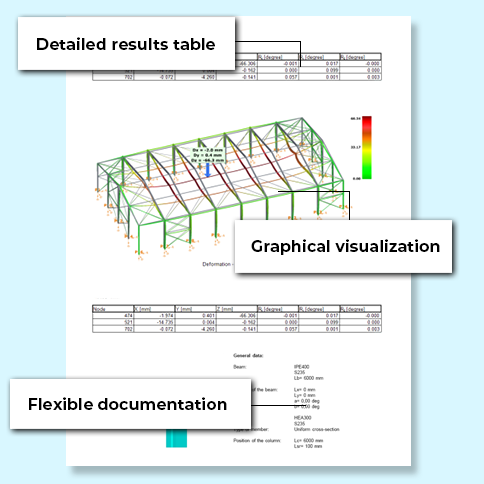 Documentation
Secure

your work with an extensive documentation!

In Consteel there is a powerful and easy-to-use documentation engine to create precise, easily editable static documents that meet the requirements of structural engineers and all the other members of the project.

There is separate documentation for the main model and its overall analysis and design results and for the detailed results of the structural members, cross-sections and connections. The different documents can be compiled into one comprehensive and complete documentation of your work.

All the documents can be automatically created with a higher or lower level of details. Images and tables can be inserted from any part of the model and its results. Chapters and texts can be added to the automatically generated contents, and the final document can be exported to MS Word for further customization.
What's new in 
Consteel 15

?
Read the full feature description here:
Get the full description
Superbeam
Use shell elements with the ease of a beam element
Consteel has broadened the concept of traditional bar members with the Superbeam concept, which allows performing the analysis on two consistently generated calculation models (bar and shell model). The member model in Consteel 15 is still built-up with conventional 1D bar members, however, with the help of a simple switch, it is possible for any bar member with welded I-section to switch between using a conventional 7DOF bar or a shell finite element for the analysis (other section types are coming later). This makes it possible to examine certain structural parts more thoroughly with the accuracy of the 2D shell model while keeping the possibility of simple modeling and modification offered by 1D bar members. It is important to note that this finite element model change is fully automatic and can be reversed at any time.
Extended modeling of the bar members also allows the incorporation of details such as web cutouts and stiffeners into the model. The placed detail objects are also automatically converted into shell members and participate in the stress and buckling analysis. Learn more about Superbeam from the Knowledge Base.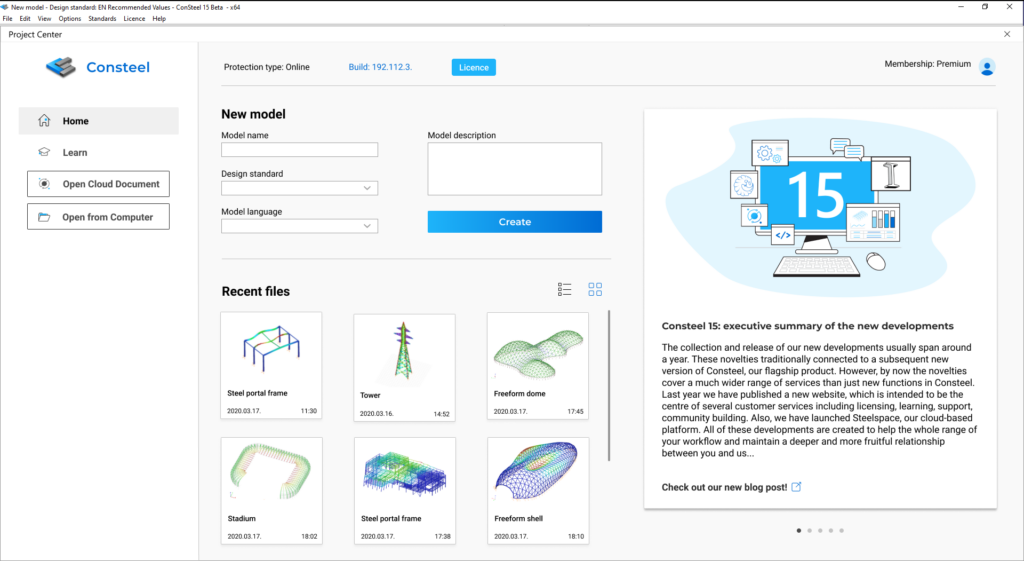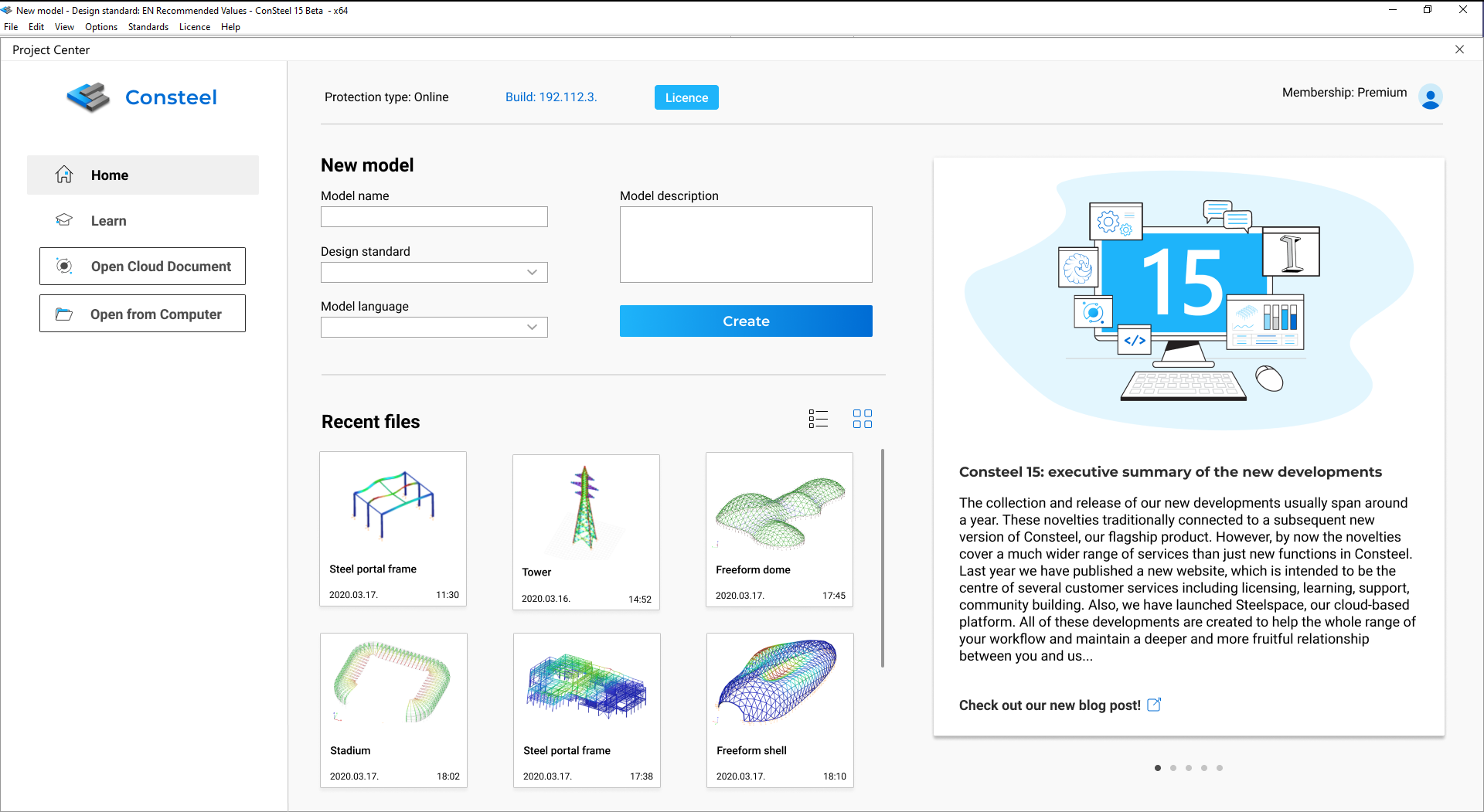 Project Center
Unites all the functionalities for model and account management, supplemented with easy access to personalized information and learning materials!
From now, the new Project Center unites all the functionalities for model and account management, supplemented with easy access to personalized information and learning materials. Here you can create new models, easily browse your recent models, and open models stored on your computer or in your cloud storage. Searching for recent models is also facilitated by auto-generated preview images, which always show the most recently saved status of the models.
Models from the cloud can be shared with other Consteel users with multilevel authorization, allowing full access to the shared model – view, save as and execute operations or calculations – or view-only access. In license info, you can view the details of the license you are accessing, set your preferences on the protection and software launch settings, or borrow an online protected license for offline use for a pre-determined period of time.
In the new Info Hub area, customized information is provided highlighting news, upcoming events, software updates, release notes, blog articles, or learning materials. The learning center offers various learning materials and example models from the Knowledge base to deepen your expertise in using Consteel. Learn more about the Project Center here!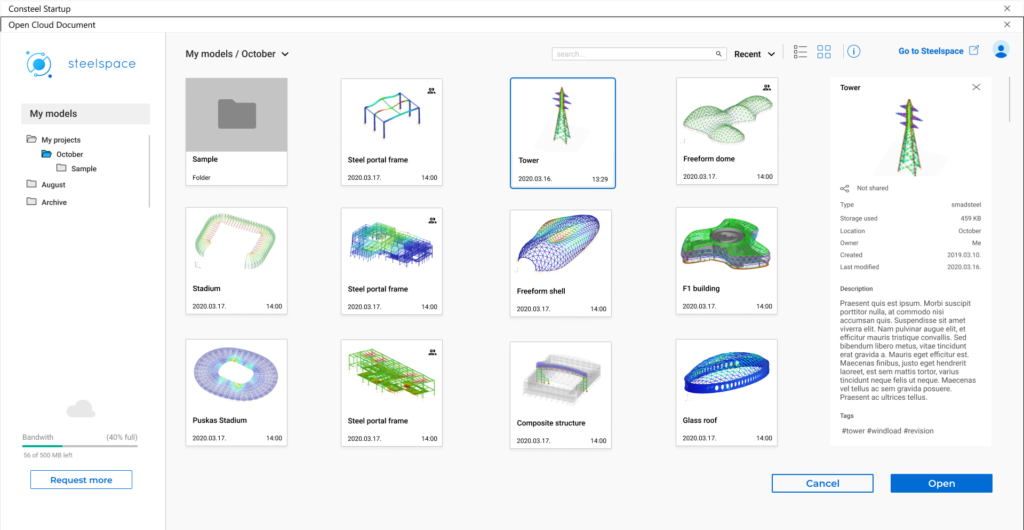 Cloud servicesBeta
No more file transferring is needed. Save and store your Consteel model and result files in the cloud and share them with others from Consteel to make collaboration easier.
Steelspace, your cloud service platform, will provide your models storing, sharing, and commenting options. With the new cloud-save and cloud-open possibilities, you can manage your models as if you had personal cloud storage right on your desktop. Your cloud-saved models will accumulate in this store and you can quickly view, access, open or share them also directly from Consteel. It is also possible to control the authorization level for shared models to ensure full access or more strict usage for a shared model. Learn more about how to save your files to the cloud here!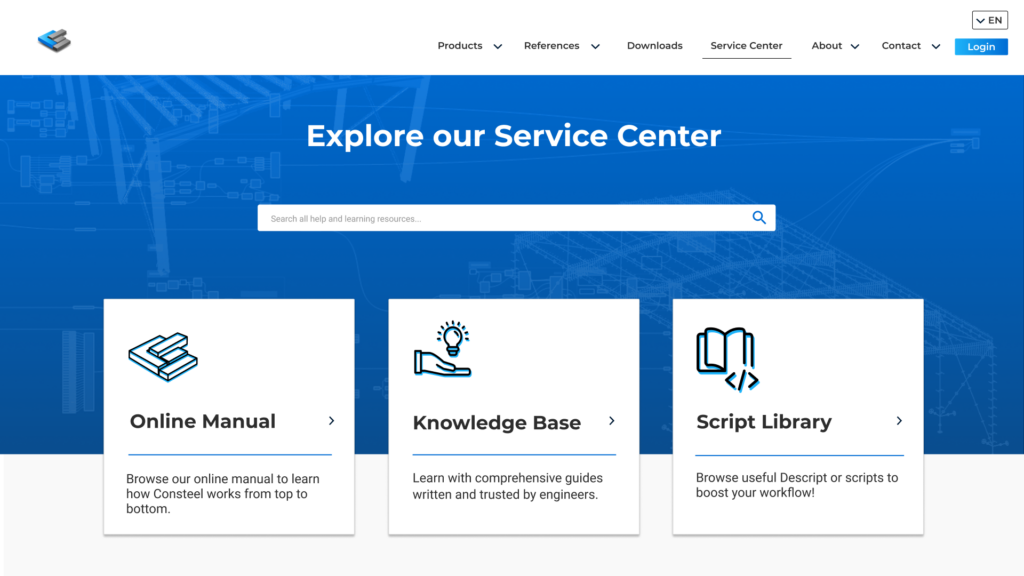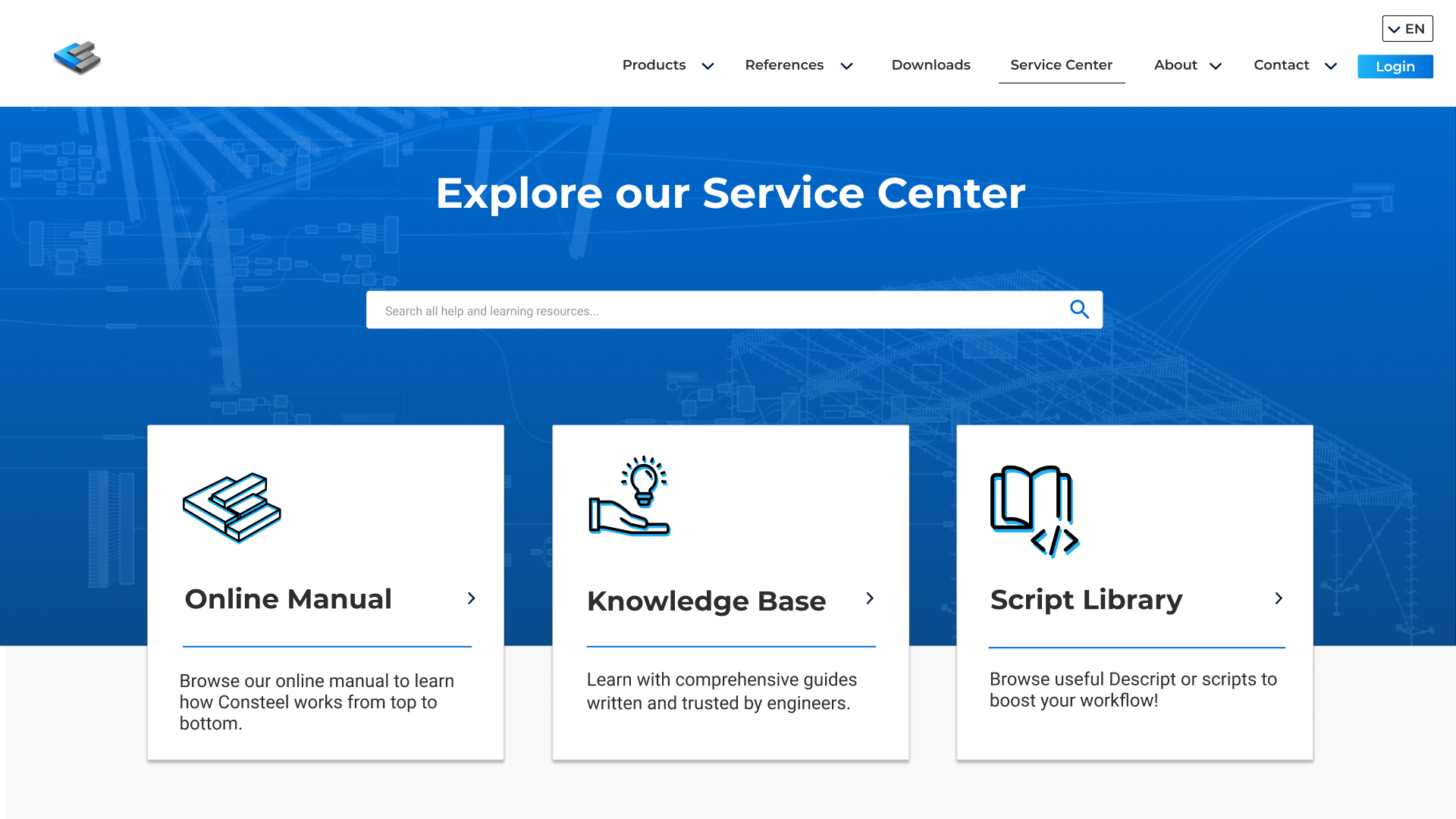 Service Center
A place where you can easily access our structured knowledge and experience in structural analysis, standard design methods, and the recent modern technologies of the construction industry.
User Manuals: include detailed descriptions of Consteel features and Descript functions to get familiar with them in a new online form with easy navigation between topics, search, detailed guides, and feedback options to share your ideas and needs with us.
Knowledge Base: a well-curated collection of learning materials and models of different types and levels to help your understanding of how to develop an effective design workflow in Consteel. It includes guides for how to start with Consteel, tips & tricks for best practices, example models to try out features, user guides for in-depth theory and application theory backgrounds for diving into the scientific background of a specific Consteel solution, and many more.
Script Library: an all-around selection of multilevel scripting solutions. Includes a wide range of prepared Descript examples which are ready to go to use in Consteel and speed up the workflow. Covers also many Grasshopper scripts to utilize parametric design with Pangolin and show the best practices. Introduces also various scripts for advanced users to take advantage of the power of Consteel API.
Access for users to the Service Center materials is based on the Consteel Community Membership levels.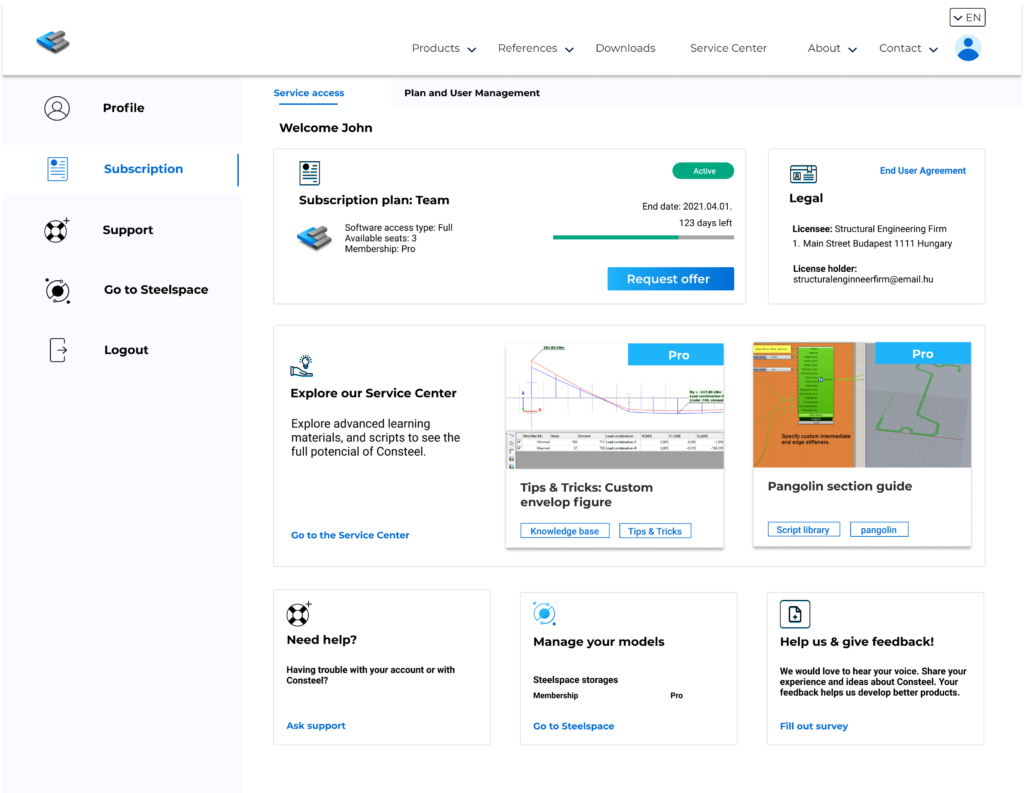 Online protection and license management
The online software protection system has been expanded to all users from students, individual professionals to design offices with greater teams.
The new developments ensure smooth and convenient license management to cover all necessary services coming with the new Subscription plans and Consteel Community Membership system as well. It has been also integrated into Consteel therefore one can always check the actual license status either in Consteel or in the personal account on our website.
Customers with Team subscriptions can use a new online license management tool to control the allocation of software seats and accesses to end-users, providing much more flexible and optimal software use within the company.
Learn more about the Online account here and End-user management here.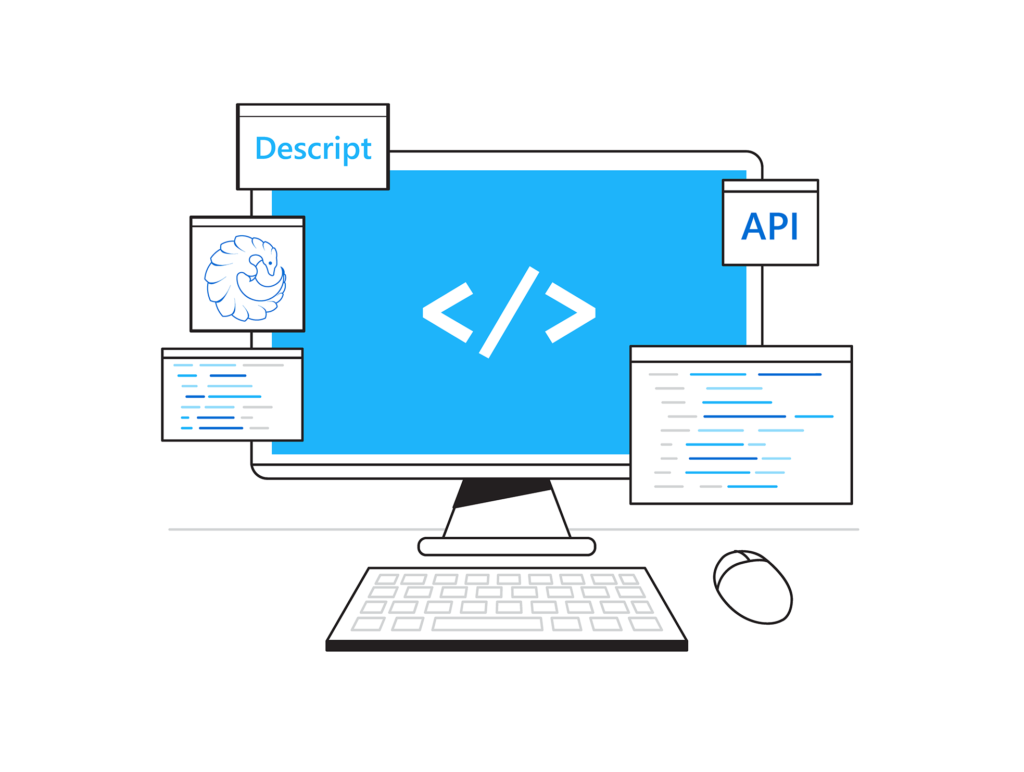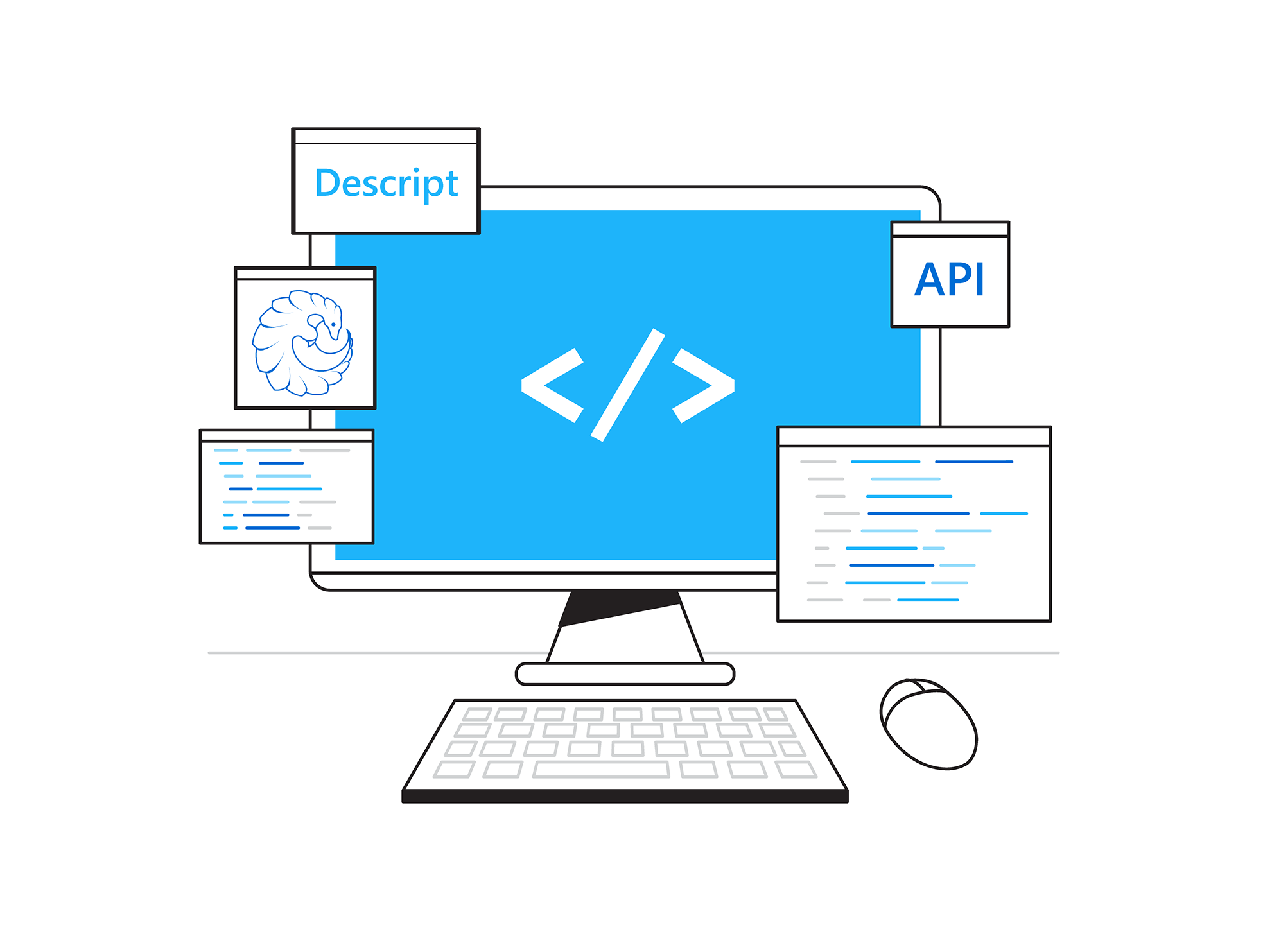 Consteel API
API is the acronym for Application Programming Interface, which is a software intermediary that allows two applications to talk to each other.
Why APIs matter in steel design?
With the power of coding, the API supports actions such as retrieving and creating cross-sections, structural members, supports, link elements, loads, and much more types of model objects. The API can read and write model files and even communicate with a running Consteel instance and enables users to interact with the Consteel model through their own code instead of the graphical user interface, making complex tasks less time-consuming.
If you would like to enhance your workflow with the Consteel API, don't hesitate to contact us.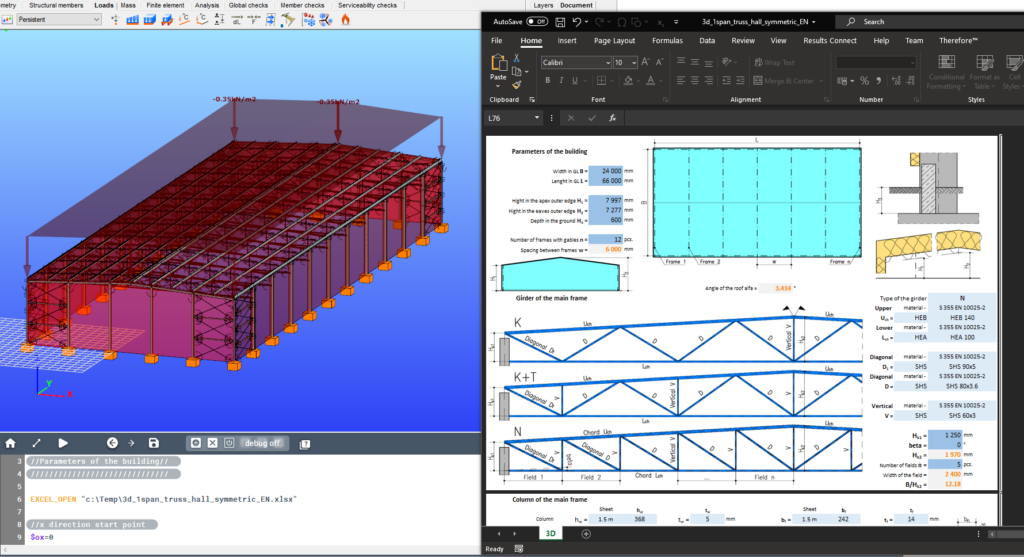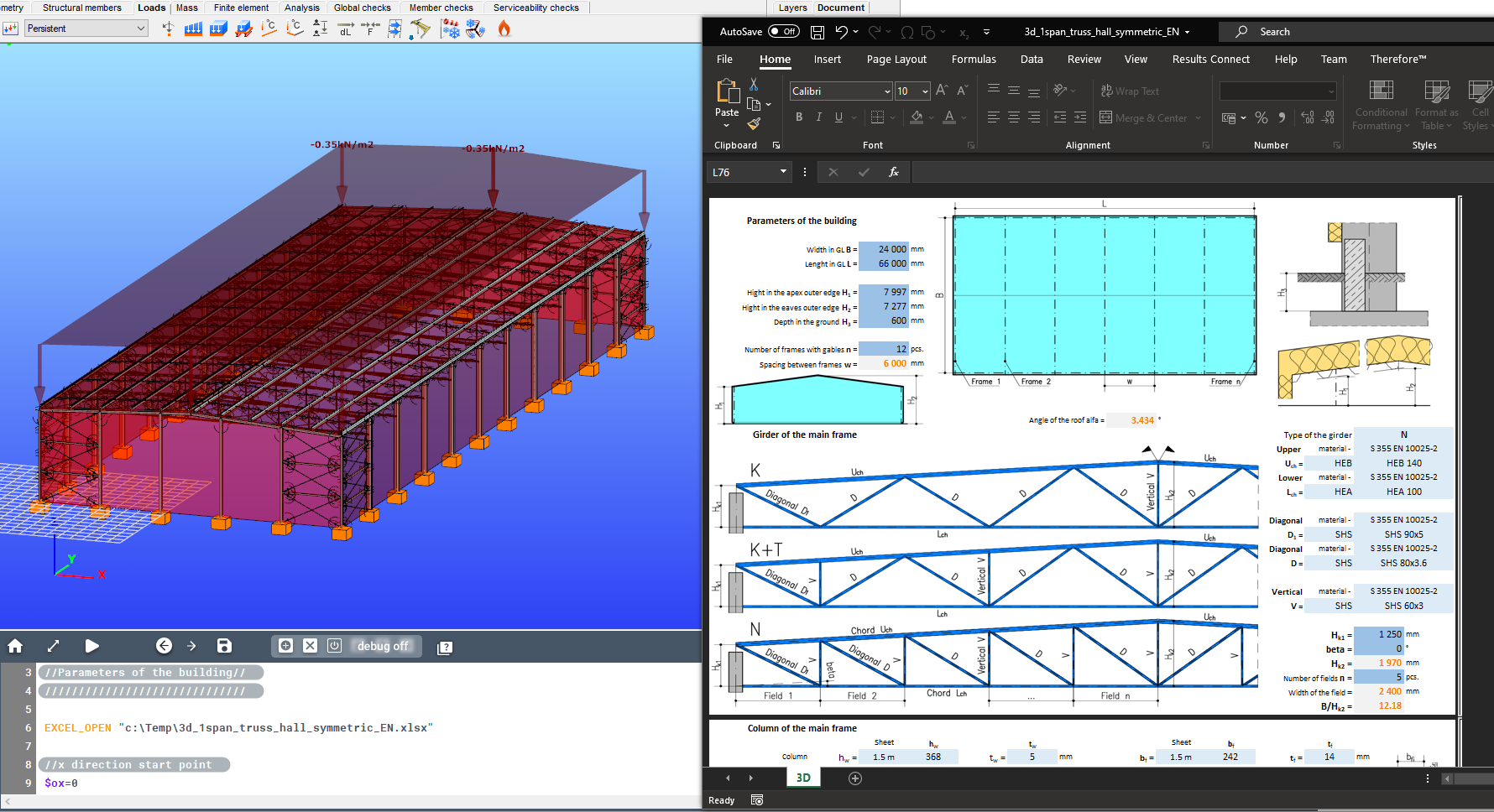 MyDescript Programming Environment
A custom-built and now updated programing language and personal scripting environment used directly inside Consteel to speed up your workflow.
The Descript script language (former csPI) was designed to assist the needs of a structural engineer and to be a powerful tool to create access, and manipulate flexibly model objects and operations or calculations on them. Allows for automation of tedious or hard tasks that do not have specific preexisting solutions, but which can be done with Descript's toolset. Learn more about how to work with Descript here.
The MyDescript interface, the personal scripting environment in Consteel gives the opportunity to create or add your own Descript files or gain access with your online account to more scripting solutions from the Script Library. Watch our feature video on how to use the MyDescript interface here.
A detailed Descript manual is also provided to help get started with scripting.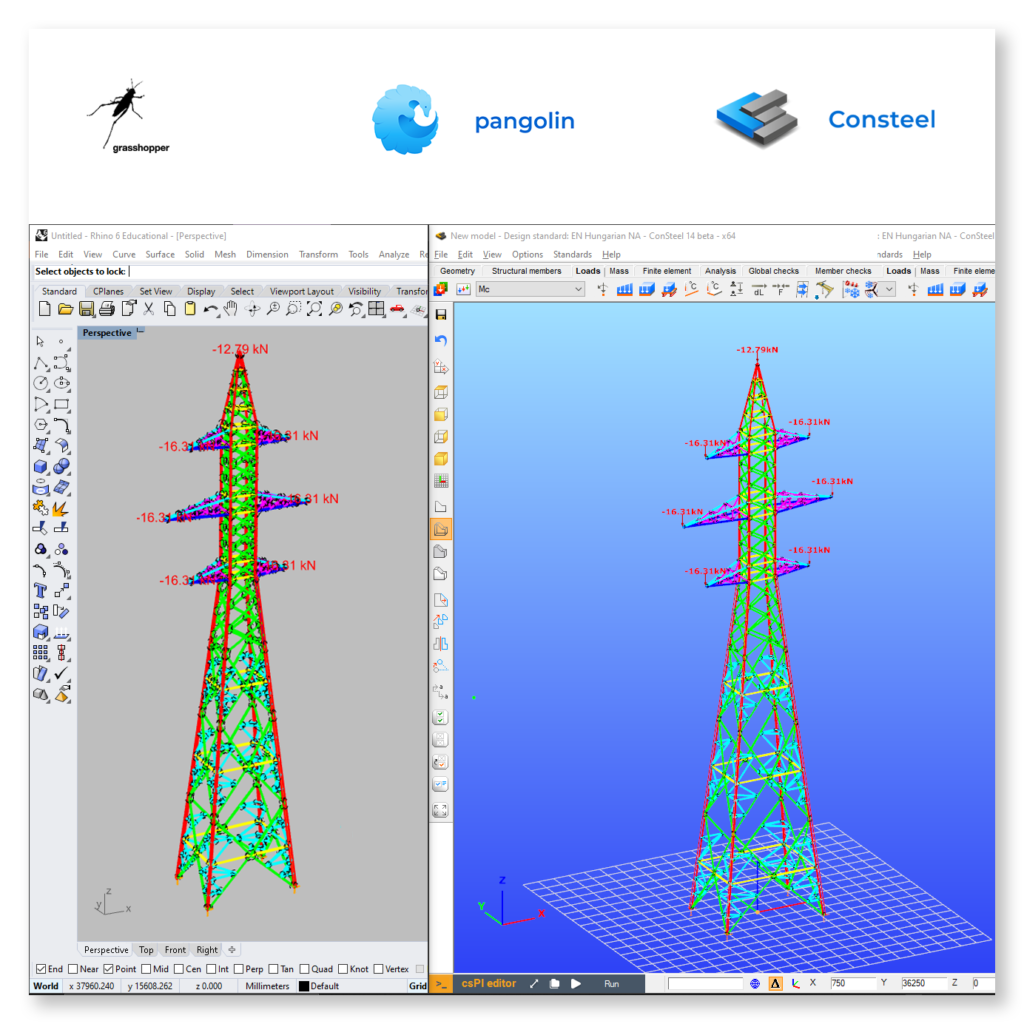 Grasshopper connection
The Pangolin plugin integrates the creation and analysis of Consteel models into Rhino / Grasshopper parametric modeling environment.
The Pangolin plug-in allows you to create a Consteel model directly in Grasshopper, with profiles, supports, loads, and all the features and functions available in Consteel. This model can then be uploaded to the cloud via Steelspace, or even directly to Consteel. The live connection between Grasshopper and Consteel also allows us to supplement the model built in Consteel with additional elements and loads in Grasshopper, of course also in a parametric way.
The new 2.0 update includes:
Load the results of the first and second-order analysis and the global design (code-design) back into the Grasshopper model. The transferred data includes stresses, buckling eigenvalues, deformations, deformed shapes, including buckling shapes. The design results include the dominant results, along with the resulting load combination, as well as all sub-results for each finite element checked.

Interested in Pangolin? Download from here, it's free! Rhino/Grasshopper will be needed.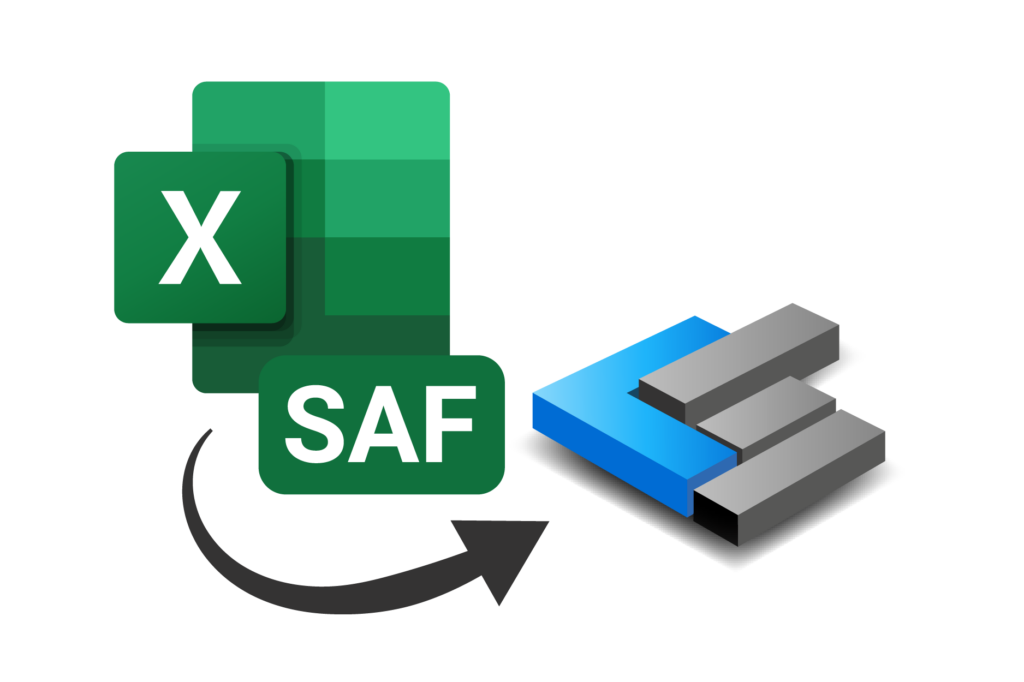 Open SAF models
With Consteel 15, engineers are now able to open structural analysis models exported in SAF format (files have a .xlsx extension in this format) that are directly converted to a Consteel model in the process.
A new file format has been added to the range of formats that can be read by Consteel. This is SAF (Structural Analysis Format), an Excel-based, open exchange format developed by the Nemetschek Group and already supported by many other engineering and architect software as well. It is intended to improve the collaboration between structural engineers on the one hand, and different disciplines on the other, by developing an open exchange format for exchanging structural analysis data (static model and loads) between FEA and CAD programs.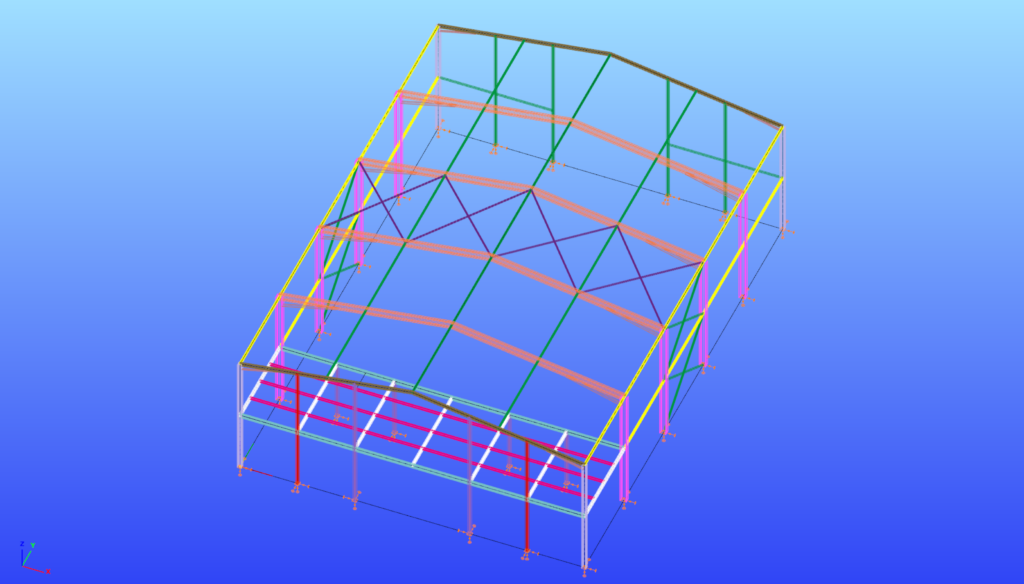 Member-coloring by cross-sections
A new possibility has been added to the visualization of the structural model: the representation of the model colored according to the sections.
In Consteel 15, each section is automatically assigned a unique color when the section is loaded, which can of course be changed later. Colors are also assigned when models from previous versions are opened. On the right side of the status bar is a new switch to toggle between default and section-based coloring. Learn how to use the new feature here.
Offers
Request offer
System requirements
| | Minimum | Recommended |
| --- | --- | --- |
| Processor | Intel i5 or equivalent | Intel i7 or equivalent |
| Memory | 4 GB | 16 GB |
| HDD space | 300 MB | 300 MB |
| Graphic card | 512 MB non-integrated | 2 GB non-integrated |
| Operating system | Windows 10 | Windows 10 |