A Consteel 15 megjelenésével együtt több újdonság és változás is történt, ami érinti a szoftver használatát.
Megszűnik a Consteel Joint külön licenszként történő értékesítése
A Consteel 15 megjelenésével megszüntetjük a Consteel Joint termékünk külön licencként való értékesítését, fejlesztését és karbantartását. A csomópontok számításának teljes funkcionalitása továbbra is elérhető a Consteel Teljes vagy Starter termékeinkben. Aktív karbantartással rendelkező Consteel Joint felhasználóink számára speciális konstrukciót biztosítunk a további szoftverhasználathoz.
Előfizetési rendszer bevezetése
A Consteel 15 megjelenésével nem csak egy új verzió került kiadásra, hanem számos online szolgáltatás is, amit a jelenlegi értékesítési rendszerünk már nem tud megfelelő mértékben lefedni. Ennek eredményeként egy egységes, új előfizetési rendszert alakítottunk ki, ami magába foglalja az elérhető online szolgáltatások hozzáférését, a Consteel Felhasználói Közösségi tagság szintjeit és a különböző szoftver hozzáférési típusokat.
Az előfizetési rendszerre történő átállást a 2022-es évtől tervezzük, és ezzel kapcsolatban hamarosan jelentkezünk. Addig is az új ajánlatokról részletesebben az Ajánlatok és csomagok oldalunkon tudsz tájékozódni.
Online védelem kiterjesztése
Az új Consteel 15 verzió lehetővé teszi az online szoftvervédelmi rendszer használatát, amely igényelhető lesz majd az újonnan bevezetésre kerülő előfizetési csomagok részeként. Jelenlegi USB kulcs védelemmel rendelkező felhasználóinknak is lesz lehetősége az online védelemre történő váltásra, addig azonban ők továbbra is az USB kulcs segítségével tudják elindítani a Consteelt.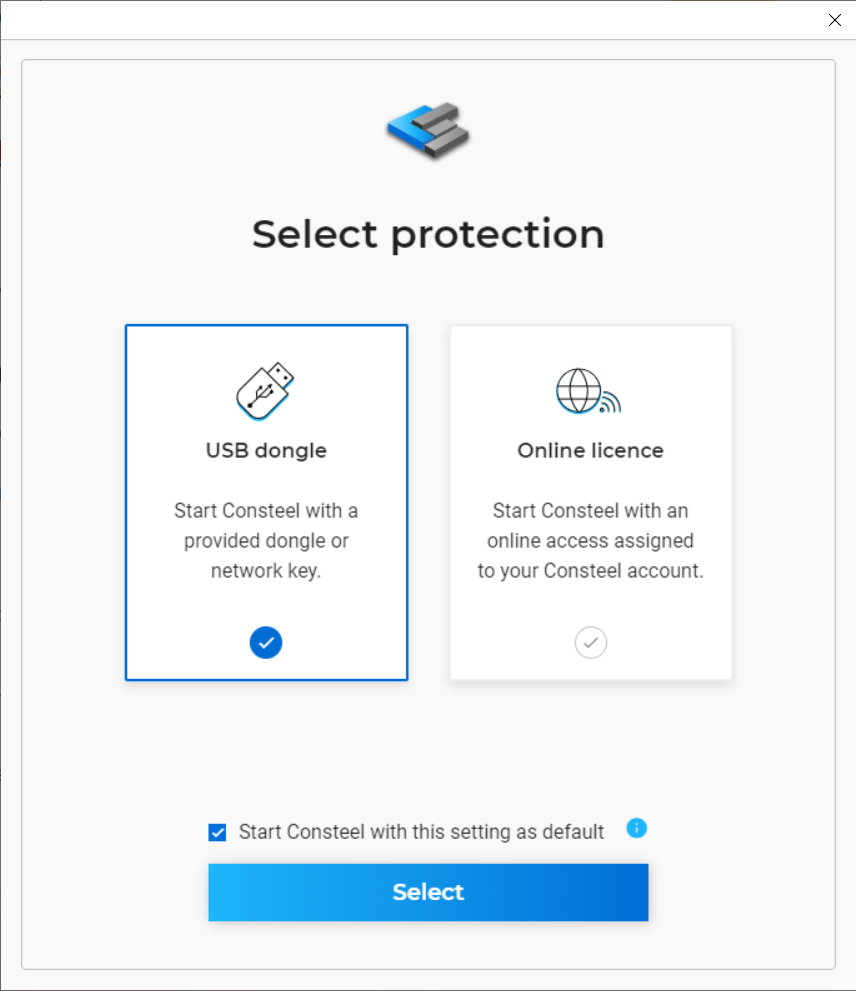 Online szolgáltatások elérhetősége
Mostantól minden felhasználónk számára elérhetővé váltak a Consteel 15 online szolgáltatásként a felhőbe történő modelltárolás és megosztás, valamint a Script könyvtárból elérhető Descript kódok használata. Az új előfizetési rendszer bevezetéséig minden szoftverhozzáféréssel rendelkező felhasználónk Pro szintnek megfelelő Consteel Felhasználói Közösségi tagsággal éri el ezeket a szolgáltatásokat.
USB kulcs védelemmel rendelkező felhasználóinknak elég csak bejelentkezniük a weboldalunkon létrehozott belépési adatokkal. A bejelentkezés történhet a Projekt központon keresztül az "Open from Cloud" gomb nyomásakor, mentéskor a "Fájl/Mentés másként" lehetőségnél a "Cloud" opció választásakor, vagy Descript felületén, hogy elérhessék a szolgáltatásokat a szoftveren belül.
Egy hosszú és intenzív fejlesztési időszak után örömmel jelentjük be, hogy megjelent a Consteel 15!
Az új fejlesztésekkel igyekeztünk követni a legmodernebb trendeket mind a szoftver és szerkezettervezés területén, ideértve a felhőszolgáltatások bevezetését, az API alapú szkriptelési és paraméterezési lehetőségeket, a magasabb szintű mechanikai számítási lehetőségeket egyszerű modellkezeléssel, és még sok mást. Így az új verzióban megvalósítottunk egyedi, komoly áttörést jelentő fejlesztést, valamint számos hasznos javítást és kiegészítést, amelyek hatékonyabbá és kényelmesebbé teszik a Consteel szoftverrel végzett munkát. Szánjunk egy kis időt az alábbiakban felsorolt legfontosabb újdonságok böngészésére, és ismerkedjünk meg a Consteel új verziójával!
Mik a Consteel 15 újdonságai?
Superbeam
A Consteel kibővítette a hagyományos rúdelemek fogalmát a Superbeam koncepció bevezetésével, mely lehetővé teszi az egyidejű analízist kétféle, konzisztensen generált végeselem modellen (rúd és héj). A rúdszerkezet modellezése a Consteel 15-ben továbbra is a hagyományos 1D rúdelemekkel történik, azonban bármely rúdelem esetében lehetőség van egy egyszerű kapcsoló segítségével váltani a hagyományos 7-szabadságfokú rúd, vagy a héj végeselem használata között. Ezáltal lehetővé válik egyes szerkezeti részek alaposabb vizsgálata a 2D héjmodell pontosságával, megtartva az 1D rúdelemek kínálta egyszerű modellezés és módosítás lehetőségét. Fontos megjegyezni, hogy ez a végeselem modell váltás teljesen automatikusan történik, és bármikor visszafordítható.
A rúdelemek kibővített modellezése lehetővé teszi olyan részletek beépítését is a modellbe, mint a gerinc kivágások és merevítők. Az elhelyezett részlet elemek szintén automatikusan konvertálódnak át héj elemekké, és vesznek részt a feszültség és kihajlás analízisben.
Háromféle merevítő elhelyezésére van lehetőség:
merőleges lemez
merőleges profil
párhuzamos lemez
A kivágások, melyek elhelyezhetők a gerinc tetszőleges pontján, szintén háromféle alakúak lehetnek:
(Megj.: a héj végeselemként számolt elemek nem veszenek részt a méretezésben, hasonlóan bármely más, eredetileg is felületelemként létre hozott szerkezeti elem sem. Az ilyen elemekere továbbra is csak feszültség- és kihajlásanalízis futtatható.)
Projekt Központ
Az új Projekt Központ egyesít mostantól minden, Consteel projektekkel kapcsolatos menedzsment feladatot egy helyen, kiegészítve a személyre szabott információkhoz és tananyagokhoz való könnyű hozzáféréssel. Innen létrehozhatók új modellek, könnyedén hozzáférhetők a legutóbb megnyitott fájlok vagy megnyithatók a számítógépen vagy a felhőtárhelyen tárolt modellek. A legutóbb megnyitott modellek keresését automatikusan generált előnézeti képek könnyítik, amelyek mindig a modellek legutoljára mentett állapotát mutatják. A felhőben lévő modellek megoszthatók más Consteel felhasználóval többszintű jogosultság beállítással, biztosítva a teljes hozzáférést – megtekintés, mentés másként és modellen történő műveletek vagy számítások végrehajtása – vagy csak megtekintési hozzáférést lehetővé téve. A licencinformációkban meg lehet tekinteni az aktuálisan használt licenc részleteit, meg lehet adni a szoftvervédelmi és szoftverindítási preferenciákat, illetve ki lehet kölcsönözni az online védelmű licencet egy előre meghatározott időtartamra offline használatra. Az új Info Hub területen személyre szabott információk jelennek meg, kiemelve a híreket, közelgő eseményeket, szoftverfrissítéseket, fejlesztési részleteket, blog cikkeket vagy tananyagokat. Az oktatóközpont változatos anyagokat és példamodelleket kínál a Tudásbázis anyagaiból a Consteel használati tudás elmélyítéséhez.
Online szolgáltatásokBeta
Nincs szükség többé a fájlok email-en vagy adathordozón történő küldözgetésére. A Consteel modell- és eredmény fájlok már a felhőben is tárolhatók és egyszerűen megoszthatók másokkal, sokkal könnyebbé téve az együttműködést.
A felhőbe történő mentés a Steelspace platform keresztül történik, biztosítva az egyszerű tárolást, megosztást és hozzászólási lehetőséget a modellek számára. Az új, felhőalapú mentési és megnyitási lehetőségekkel a modellek úgy kezelhetők, mintha a személyes felhőtárhely az asztalon lenne. Ebbe a tárhelybe mentett modellek könnyen és gyorsan áttekinthetők, megnyithatók és megoszthatók akár közvetlenül a Consteel felületéről is. Megosztás során lehetőség van a hozzáférési jogosultságok kontrollálására is, biztosítva a megosztott modellhez való teljes hozzáférést, vagy egy korlátozottabb elérhetőséget.
Service center
Ebben az online térben gyűjtjük össze és osztjuk meg felhasználóinkkal a szerkezettervezés és -méretezés, valamint az építőipari újdonságok terén szerzett tudásunkat és tapasztalatainkat.
Felhasználói kézikönyvek: részletes leírások a Consteel és a Descript funkcióiról új, online formában, az egyes a témák és cikkek közötti egyszerű navigációval. Ezenkívül könnyű keresést, részletes használati útmutatókat és visszajelzési lehetőséget is biztosít a felhasználóknak.
Tudásbázis: különböző típusú és nehézségű tananyagok és modellek gyűjteménye, mely segít hatékonyabbá tenni a Consteelben végzett tervezési munkafolyamatot. Tartalmaz útmutatókat a Consteellel való ismerkedéshez, bevált módszerekhez tippeket-trükköket, példamodelleket a funkciók kipróbálásához, mélyreható használati útmutatókat mind az elmélettel, mind a gyakorlati alkalmazással kapcsolatban egy-egy speciálisabb Consteel megoldás mélyebb megismeréséhez, és még sok mást is.
Script könyvtár: teljeskörű válogatás többszintű script megoldásokból. Széles választékot tartalmaz előre megírt, azonnal felhasználható Descript példakódokat a Consteel munkafolyamatok felgyorsítására. Ezenkívül több Grasshopperben futtatható scriptet is tartalmaz a parametrikus tervezés és Pangolin bővítmény használat legjobb megoldásaival. A haladó felhasználók számára lehetőség nyílik a Consteel API erejének kihasználásra különböző scriptek segítségével.
A Service Center egyes anyagaihoz való hozzáférés a felhasználó Consteel Felhasználói Közösség tagsági szintjétől függ.
Online védelem és licenc menedzsment
Mostantól már minden felhasználónk számára elérhetővé válik az megújított és kibővített online szoftvervédelmi rendszer legyél diák, egyéni szakember vagy tervező irodai csapat tagja.
Az online licenc menedzsment felület kényelmes kezelést biztosít a Consteel előfizetési csomagjaihoz és a Consteel Felhasználói Közösség tagsági rendszerhez kapcsolódó összes szükséges szolgáltatáshoz. A szolgáltatás kezelése a Consteel integrált része lett, így bármikor ellenőrizheti a licenc aktuális állapotát a Consteelen belül vagy a weboldalunkon a személyes fiókban.
Csapat előfizetési csomagot használó ügyfeleink egy új, online licenckezelő eszköz segítségével szabályozhatják a szoftver helyek és hozzáférések kiosztását az egyes felhasználók számára, sokkal rugalmasabbá téve a szoftver hatékony használatát a vállalaton belül.
Consteel API
Az API az Application Programming Interface kifejezés rövidítése, egy szoftver kapcsolat, amely lehetővé teszi, hogy két alkalmazás kommunikálhasson egymással.
Miért hasznos ez a szerkezettervezésben?
Az API olyan műveleteket támogat, mint például a keresztmetszetek, szerkezeti elemek, támaszok, kapcsolati elemek, terhek és sok más típusú modellobjektum kiolvasása a modellből, illetve mindezek létrehozása. Az API képes modellfájlok olvasására és írására egy futó Consteel programmal kommunikálva, így lehetővé téve a felhasználók számára, hogy a Consteel grafikus felhasználói felülete helyett saját programjukon keresztül lépjenek kapcsolatba a Consteel modellel, időt spórolva összetett és hosszadalmas műveletek elvégzésekor.
Ha szeretne többet tudni a Consteel API-ban rejlő lehetőségekről, ne habozzon kapcsolatba lépni velünk.
Descript programozási felület
A Consteel saját, megújított programozási nyelve és egyedi programozási felülete közvetelnül a Consteelbe integráltan a munkafolyamatok felgyorsítására.
A Descript nyelvet (korábbi elnevezése csPI) a szerkezetmérnökök igényei szerint terveztük, hogy egy hatékony eszközt biztosítsunk modellek, modell objektumok és az azokon végzett műveletek és számítások rugalmas létrehozásához, kezeléséhez és futtatásához. Lehetővé teszi olyan unalmas vagy nehéz feladatok automatizálását, amelyekhez nem létezik kész megoldás a programban, a Descript eszközkészletével azonban elvégezhetők. A MyDescript felület, a Consteel személyes programfájl-kezelője lehetőséget ad saját Descript fájlok létrehozására vagy betöltésére, valamint az online fiókon keresztül hozzáférést biztosít a Script Tár tartalmaihoz is. Egy részletes online kézikönyv is rendelkezésre áll, amely segíti a Descript használatának elsajátítását.
Pangolin 2.0
A Pangolin plugin integrálja a Consteel szerkezet modellezését és analízisét a Rhino/Grasshopper parametrikus környezetébe.
A Pangolin beépülő modul lehetővé teszi, hogy a Grasshopperben a paraméteres geometriai modellt szelvényekkel, támaszokkal, terhekkel és minden, a Consteelben elérhető tulajdonsággal és funkcióval felruházva, közvetlenül Consteel modellt lehessen létrehozni. Ez a modell ezután feltölthető a felhőbe a Steelspace-en keresztül, vagy akár közvetlenül a Consteelbe is. A Grasshopper és a Consteel élő kapcsolata azt is lehetővé teszi, hogy a Consteelben épített modellt Grasshopperben további elemekkel és terhelésekkel egészítsük ki, természetesen szintén parametrikusan.
Az új, 2.0-s verzió a következőket tartalmazza:
Az első és másodrendű számítás valamint a globális tervezés (méretezés) eredményeinek visszatöltése a Grasshopper modellbe. A beolvasott adatok tartalmazzák az igénybevételeket, kihajlási sajátértékeket, alakváltozásokat, a deformált alakot, beleértve a kihajlási alakokat is. A méretezési eredmények magukban foglalják a mértékadó eredményeket, az azokat eredményező teherkombinációval együtt, valamint az összes részeredményt minden ellenőrzött végeselemre.
Töltsd le a Pangolint innen, és próbáld ki ingyen. (Rhino-Grasshopper szoftver szükséges hozzá)
SAF modellek megnyitása
Új fájlformátummal bővült a Consteel által olvasható formátumok sora. Ez a SAF (Structural Analysis Format), a Nemetschek Group által fejlesztett, Excel alapú, nyílt adatcsere formátum, melyet már jelenleg is sok más mérnöki- és építész szoftver támogat. Ennek az új kezdeményezésnek a célja, hogy javítsa egyrészt a szerkezettervező mérnökök, másrészt a különböző szakágak közötti együttműködést egy olyan nyílt formátum kifejlesztése által, mely lehetővé teszi a statikai váz geometriai és teher adatainak cseréjét FEA és CAD programok között.
A Consteel 15-tel, a mérnökök immár képesek megnyitni SAF formátumban (a fájlok .xlsx kiterjesztésűek ebben a formátumban) exportált szerkezeti modelleket, melyek közvetlenül Consteel modellé konvertálódnak a folyamat során.
Szelvények szerint színezett modell
A szerkezeti modell megjelenítésében megjelent egy új lehetőség: a szelvények szerint színezett modell ábrázolás. A Consteel 15-ben minden szelvény, a szelvénybetöltés során, automatikusan kap egy egyedi színt, mely később természetesen megváltoztatható. Régebbi modellek megnyitása esetén is megtörténik a színek hozzárendelése. Az állapotsor jobb oldalára került egy új kapcsoló, mellyel váltani lehet az alapértelmezett és a szelvények szerinti színezés között.
Informatívabb eredménymegjelenítés
Az eredmények minél könnyebb értelmezését és látványosabb megjelenítését nyújtják legújabb vizualizációs fejlesztéseink.
Térbeli feszültségdiagramm
A szelvény modulban a feszültségdiagrammok már egy új, térbeli ábrázolásmódan is megjeleníthetők, ezzel segítve a szelvény feszültségállapotának jobb megértését.
Simított és valósághű deformációs ábrák
A Consteel 15-ben a szerkezet valós 3D-s viselkedése jobban látható a deformációk megjelenítésében történt fejlesztéseinknek köszönhetően. Az új verzióban már nem a végeselemek elmozdulását és tengely körüli elcsavarodását ábrázoljuk, hanem a keresztmetszet minden kitüntetett pontjának a tényleges eltolódásait, beleértve a hetedik szabadságfokból adódó szelvény torzulás hatását is. Mindez folytonos, érthetőbb és szebb, valamint a lemezmodellel megegyező deformációs ábrákat eredményez rudak esetén is.
Színezett igénybevételi ábrák
Az igénybevételi és elmozdulási ábrák megjelenítésében új lehetőség a színezett diagrammok megjelenése. A negavtív értékek kékkel, a pozitív értékek pirossal jelennek meg, jobb érthetőséget biztosítva az eredmények áttekintése során.
Kihajlásérzékenység ábrák
A kihajlásérzékenységi vizsgálat eredményeinek jobb megértését segíti az, hogy azok mostantól a valós kihajlási alakokon láthatók. A kritikus elemeken így azonnal látható az is, hogy milyen kihajlási mód okozta azt.
További kiegészítő fejlesztések
Terhek sokszorosítása új teheresetekbe
Változó helyzetű terhek (mozgó terhek) könnyebb létrehozását segíti a másolás funkcióban megjelent új lehetőség, mellyel a kijelölt terhek másolása már nemcsak a saját teheresetén belül történhet, hanem új teheresetekbe is. Utóbbi esetben a teher minden másolata az adott tehercsoporton belül automatikusan létrejövő új teheresetbe kerül.
Kényszer elemek
A Superbeam koncepcióhoz kapcsolódóan került bevezetésre a Consteelben a kényszer elem is. Ezek az elemek jelenleg kézzel nem hozhatók létre, csak az alábbi funkciók által jöhetnek automatikusan létre, és a végeselemes modellben megjeleníthetők:
keretsarok: a kényszer elem korábban is létezett, de a felhasználó számára nem látható módon.
rúd elem héj végeselemes számítási modellre történő átállítása esetén a héj-rúd átmenet definiálására kerülnek elhelyezésére a kényszer elemek.
Rúdvégi folytonosság (csukló) megújítása
A rúdvégi folytonosságok (csuklók) modellezését is megújítottuk egy új, nulla hosszúságú folytonosság-végeselem bevezetésével. A rúdvégi folytonosságok kezelése kikerül a rúd végeselemből, és átkerül egy új elembe, mely a rúdvég és a csatlakozó szerkezeti elemek között helyezkedik el. Ez semmilyen változással nem jár a felhasználó számára a modellezés során, minden automatikusan történik a végeselemes modell előállítása során. Azonban ebből a módosításból, melyre az alakváltozások valósághűbb ábrázolása miatt volt szükség (ld. feljebb) következik néhány, a felhasználók számára is jól látható és pozitív változás:
Mostantól már hosszváltozást okozó teher (hőmérséklet, tűz, feszítés) is elhelyezhető olyan elemen, melynek tengelyirányú rúdvégi elmozdulása feloldott.
A csomópontba befutó, eltérő rúdvégi folytonossággal ellátott rudak eltérő rúdvégi elmozdulásainak valósághű megjelenítése
Láthatósági kapcsolók bővítése
Bővítettük a modell objektumok megjelenítését szabályozó láthatósági kapcsolók számát. Az új, kibővített beállító ablakba 6 új kapcsoló került, így most már szabályozható valamennyi szerkezeti objektum láthatósága. Az új kapcsolók a következők:
kényszer elem (új objektum)
merev test
diafragma
szelemensor
merevítő (új objektum)
kivágás (új objektum)
Teherátadó felületek továbbfejlesztése
A teherátadó felületek teher szétosztást szabályozó algoritmusát továbbfejlesztettük, hogy minél kevesebb, általában modellezési pontatlanságból fakadó hibaüzenettel találkozzon a mérnök napi munkája során.
Ennek eredményeképpen olyan modelleken is kevesebb problémával találkozhatunk, melyeket más programokból importáltunk a Consteelbe, és gyakran tartalmaznak apró pontatlanságokat, mely pontatlanságok a végeselemes modellben hibát okozhattak.
Part 2 – Supplementary services
Goal of the supplementary services
Serving the clients does not end with developing a good software product for them. This is especially true for structural analysis and design software for two main reasons:
these products cover quite wide and complex engineering workflows from model building with realistic mechanical conditions (supports, connectivity, loads, etc.) through structural analysis to documented standard design checks;
the inappropriate use of these complex tools can result in unsafe solutions with very serious consequences which are generally the responsibility of the end-users.
Accordingly, from the end user's point of view, the main goal of the supplementary services is to make their work with the software safe and efficient. These aspects are usually conflicting and fulfilling them requires a solid knowledge not only in the general structural mechanics and standard design methods but in the software-specific solutions as well which are typically not evident.
Learning and maintaining the proper use of structural analysis and design software requires considerable time from the user and a considerable amount of services from the software vendor. However, it is certainly worth investing in this on both sides since it immediately pays off in more effective and faster lead-time design projects. On the other hand, the longer and deeper learning of the proper use of the software (so the more invested time and energy in to be a professional in a specific software product) strengthen the engagement of the users which is the primary goal of the software producers. In the following section, it is presented how we want to implement and manage these services and how we think about user engagement.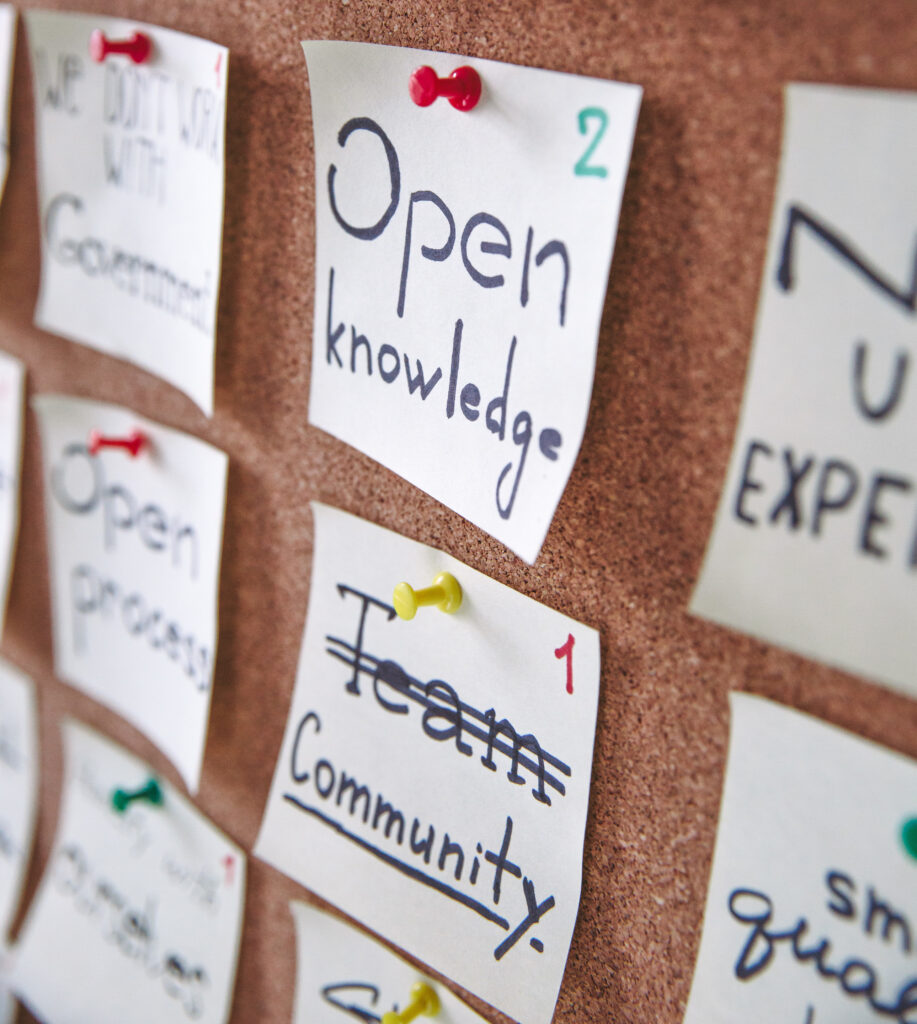 Consteel Community Membership
At Consteel we strongly believe in the power of the community which in our case means that if we – software developers and end-users – agree on our common values and goals and share our talents and knowledge then we, together could be much more successful than individually.
Accordingly, we think that our connection to our customers should not be a one-way channel but a two-way, engaged relationship where we share our best knowledge in the form of modern software and supplementary services and our customers' response to us by their practical expertise in the form of opinions, needs, workflows, projects, etc. This relationship is more than a simple subscription to software, it is already a membership organization.
According to Wikipedia the membership organizations "… typically have a particular purpose, which involves connecting people around a particular profession, industry, activity, interest, mission or geographical location. This might simply be to encourage or facilitate interaction and collaboration, but it also often involves promoting and enhancing the purpose itself." And this is exactly what we want – and also this is part of our mission statement:
"We want to support a new generation of user community where the governing working rules are collaboration and knowledge sharing. Our dream is to connect demands and solutions, users and developers, models and calculations from all over the world to help a truly efficient design workflow utilizing the power of the engineering community."
So we change our previous system for the support, maintenance, and upgrades and collect our supplementary services into a multilevel Consteel Community Membership system. In close accordance with our new licensing system where we would provide the software license only for users subscribed to the access of the newest version (no permanent license without a subscription), we aim to form a community of engaged users with the kind of behavior described above, because we think that this can be much more efficient than a simple subscription system.
Community engagement has different levels from the passive, one-way information flow type relationship through the bridge-building, reactive type involvement until the fully integrative and cooperative engagement. The latter one is the most desirable transformational and game-changing way of collaboration and we want to have our users step up from the lower levels to this one within the Consteel Community Membership. So we have implemented the environment and tools for our supplementary services to be able to support this vision, it will be presented a little bit more in detail in the next section.
Provided services
There are a couple of factors influencing the user's satisfaction and engagements, the most important ones are the followings:
There are a couple of factors influencing the user's satisfaction and engagements, the most important ones are the following:
Software quality, updates
Flexible licensing
Level and quality of support
Supplementary services

Usual classic services:

Learning materials
Trainings
Events (user days, competitions, etc.)
Feedback channels (surveys, fast feedback systems, etc.)

Advanced services from Consteel
Most of the above list does not need any explanation, but some key features of them connected to community building are worth discussing. First, a general point is presented regarding the availability of the services, and then the background, aims and some content of the two special services – cloud and scripting – introduced this year will be explained.
Important to note that we are fully dedicated to developing further the services not only by continuously increasing the contents but by widening the ways and channels to shape our community engagement.
Exclusivity of services
An important feature of good membership organizations or communities is that members feel privileged to belong to that community. This privileged status can be efficiently strengthened by making the valuable services available exclusively to the members. Also, it is a well-known fact that people value much more what they pay for.
Customers tend to forget or postpone activities in services offered for free – a typical example is a participation in free webinars, which is generally a fraction only of the number of applicants. They feel more directly the value of – and accordingly they are more active in – paid services which in turn highly increase their engagement and their community participation. It is also important to see that the production and promotion of these services are costly activities usually requiring our best experts and this is basically covered by the payments of our users.
Since it is our primary goal to increase the community engagement of our users, we will reserve our most valuable services exclusively to the members of our membership organization and will not make them available freely for everybody like it is now usual. Some of these services – mainly the classic learning materials – will be available in our new Service Center, but several other types are planned to complement the software features.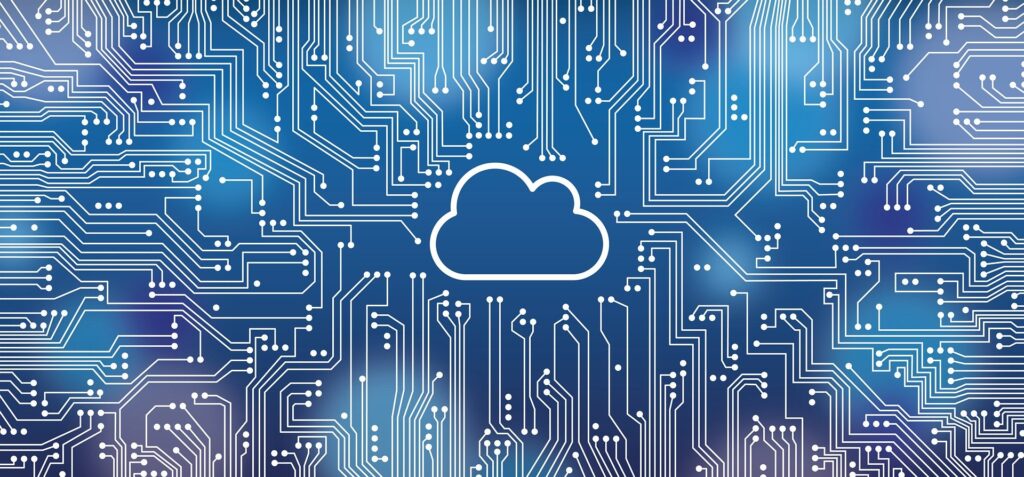 Cloud services
With our brand-new cloud services, we want our customers to move outside of their computers and have them be more open to using online services. We see a huge potential in the cloud services and accordingly invest more and more into it, placing special features here, which are thought to be much more efficient to use in that way than as an in-built desktop software functionality.
On the other hand, we think (and hope) that the use of cloud services supports the culture of sharing and feedback within the structural design workflows which we see as a quite rare and far not universal characteristic of today's structural engineering communities (unlike the software developers' communities where it is a very general feature). So our unconcealed goal with the cloud services is to help our users to step ahead in the development of community engagement.
In the first phase, we will provide a very easy way of cloud save, store and open complete Consteel models together with a comprehensive opportunity for sharing them with colleagues either in the cloud or even in Consteel. The users can conveniently access their models from the office computer, from the home laptop, or from practically anywhere and from any device using their online protected software. The structured, cloud-stored, and properly access-managed shared models can be the basis of a real collaborative workflow in a design project, in an engineering office, or even in a university course.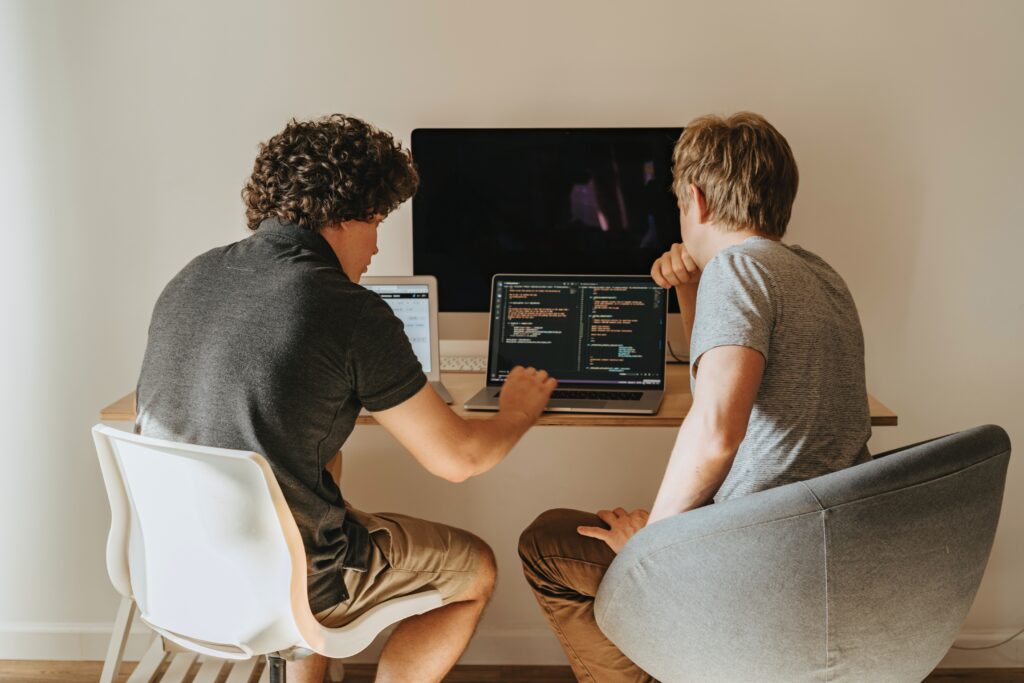 Scripting services
Scripting techniques are a very progressive and efficient way to control and manage model creation, modification, and calculations. Last year we presented our Grasshopper plugin, Pangolin, opening the way for Grasshopper users to build a complete, parametric Consteel model ready to analyze and design. But before that, a few years ago, we had introduced in Consteel a unique, in-built scripting tool with an internal programming environment. Our intention with this development was to offer an introductory scripting tool directly for structural engineers not fully familiar with these techniques and this is what we call now Descript.
To make it convenient to use for the structural engineers working in Consteel principally, Descript has been developed as a programming language following closely in its logics and syntaxes the structure of the Consteel objects with their attributes, and the operations. Also, the programming environment is placed inside the UI of Consteel so there is no need for any external code development environment. This environment is now completely reworked and supplemented with several supporting services making it even more transparent and easy to use.
The scripting workflow in Descript will be supported by a new, comprehensive manual with several simple code examples. In the brand new Script Library, continuously growing number of Descript codes are collected providing useful supplementary functionalities at different levels of complexity. The most important novelty is the MyDescript interface in Consteel, where all the codes in the Script Library can be accessed, executed, or saved, and further modified or developed according to the level of membership of the user.
These services are designed to get our users to start working with scripting techniques to make their workflows more standardized, thoughtful, and efficient. As a future perspective, we plan here also to exploit the power of the community by providing a place for the members of the Consteel Community to share, comment, rate, and improve the Descript codes of each other.
We are really excited to let you know that Steelspace has launched! We believe that cloud-based services are the future! Our colleague had already written a great post about how cloud services can accelerate our workflow. We think structural design experience could be so much more if we take advantage of the opportunities of the cloud.
Just a few of the many benefits of moving services and data to the cloud:
the user saves time and resources,
their work is more secure,
and collaboration between multiple users is much smoother and easier
We are confident that engineering work is facing a similar transformation and we want to be one of the inducers of this process with our latest development.

What is Steelspace?
Steelspace is a cloud-based storing, sharing and service providing open platform for structural models and their analysis or design results.
Users are immediately able to upload, store and view structural models from Grasshopper Pangolin and from Consteel and share them with colleagues having also Steelspace account. On the models in Steelspace several structural analysis and design calculation packages can be executed which are available for and compatible with the uploaded model.
Not sure how to export your model to Steelspace? Check our quick guides on Youtube!
The system is still under development and we will make sure to continuously improve our services. If you interested, head to Steelspace.io and give it a try! You can log in with your Consteel account if you already have one or just register for free.
We are open to collaborations as well! If you have a great idea or solution to implenet in Steelspace, don't hesitate to contact us!
Steelspace
We are glad to let you know that Consteel 14 is out! We have expanded the boundaries of the latest version of Consteel and not just developed new features for Consteel, but created a plugin for Rhino-Grasshopper, and redesigned our website to serve better for our users' needs.
What's new in Consteel 14?
Overall Imperfection Method
Stability design based on imperfections is becoming more prevalent as modern architecture poses an increasing challenge to structural designers with its unusual, innovative, and non-conventional solutions. Global buckling shapes of the structure can be used as starting data to geometric imperfections. However, in addition to imperfection shapes, it is also necessary to determine their amplitudes, but the design standards do not provide much help for this, as it yields a solution for only simple column buckling problems. In the case of real, complex structures, the value of the imperfection amplitude cannot be calculated in this way. The new method we have developed, the Overall Imperfection Method, provides a solution to this.
We introduced a new sensitivity test called the Imperfection Sensitivity test. Using the results from this new test, we also automatically obtain the value of the required amplitude multiplier for the application of the buckling shapes as imperfection. Thus, the imperfection based stability design can already be performed automatically and quickly in Consteel as the design based on strength reduction factors in the general method.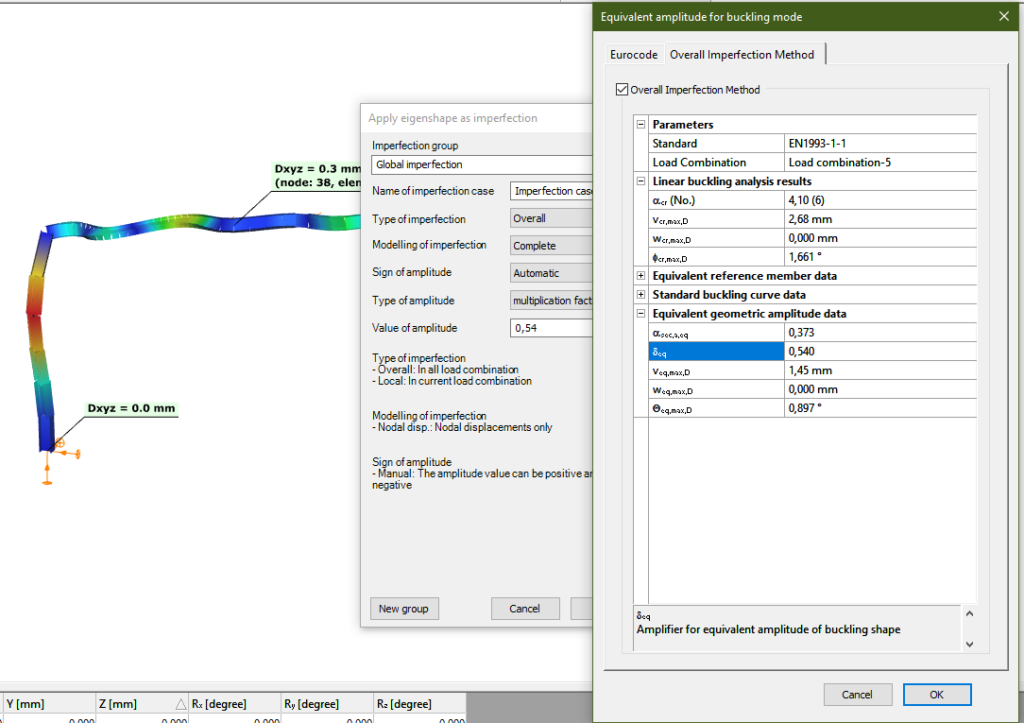 Smart Link
A new type of link element has been implemented into Consteel, the smart beam-beam link element, which greatly simplifies the modeling of the eccentric connection of two bypassing members. Typically, this is the case with the connection between the main beam and purlins. With this new object, we can place link elements at specific points in the main beam, and we can easily connect other beams to their other end point, based on the predefined parameters of the eccentricity. In the case of any change in geometry or profile, the link element follows the modification of the main beam, together with the purlin attached to it. The link elements can be placed individually or in groups with a predetermined arrangement along the main beam.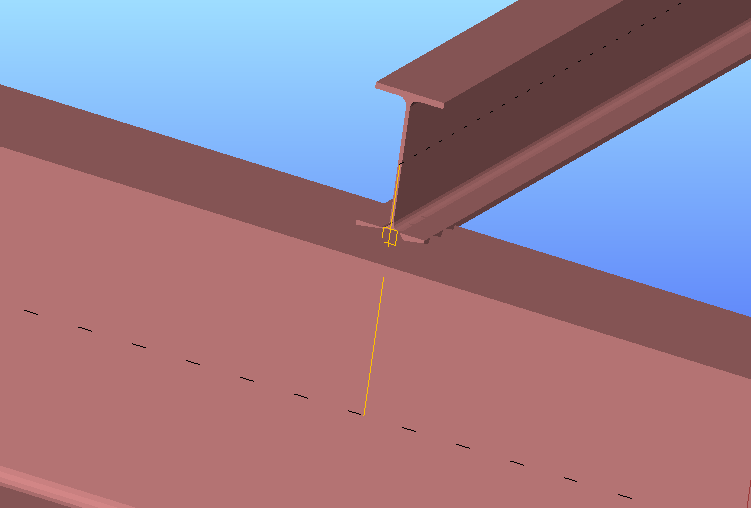 Linearly variable distributed surface load
The available types of surface loads have been expanded with a linearly variable type of distributed load. From now on, the definition of snow accumulation loads will be much easier than before. In this case also, the load can be applied over the entire surface or only on a delimited part of it. The desired load pattern of a roof can be assembled with several surface loads of different intensities linked to a single load-transfer surface spanning over the entire roof.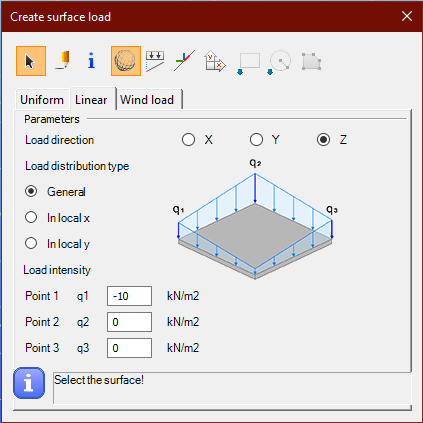 Critical temperature
We have also implemented the calculation of the critical temperature, which is an important parameter of the design in fire situation. The critical temperature is the temperature at which, due to that heating, the material properties are reduced to such an extent that the load-bearing capacity of the element is exhausted at a given load. It means that the value of utilization is just 100%. If fire protection is to be achieved with fire-protection intumescent painting, this value is the basis for specifying the appropriate material and layer thickness.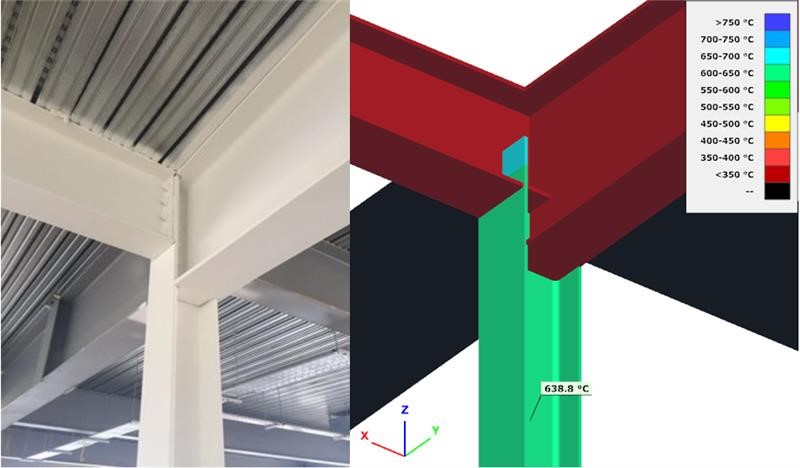 The critical temperature must be calculated differently for the strength and stability analysis. Consteel can perform both calculations and the result will be the lower of the two calculations, i.e. the design value.
Pangolin plugin for Grasshopper
In the intuitive and revolutionary parametric geometric modeling environment of Grasshopper, it has already been possible to create any spatial model that can be described by mathematical functions. The new plugin we have developed for this environment allows us to develop the geometric model directly into the Consteel model right in the Grasshopper, endowing it with gauges, supports, loads, and all the elements and features available in the Consteel. This model can then be uploaded directly to Consteel. The model thus adopted only needs to be run in Consteel, because the modeling can be carried out in a parametric way in Grasshopper. If you need to change somewhere in the geometry or loads, you can do so by changing a few parameters, and then passing the model that has changed in this way to Consteel, you can run the analysis again immediately. The live connection between Grasshopper and Consteel also makes it possible to supplement the model built in Consteel with additional elements and loads in Grasshopper, of course also in a parametric way.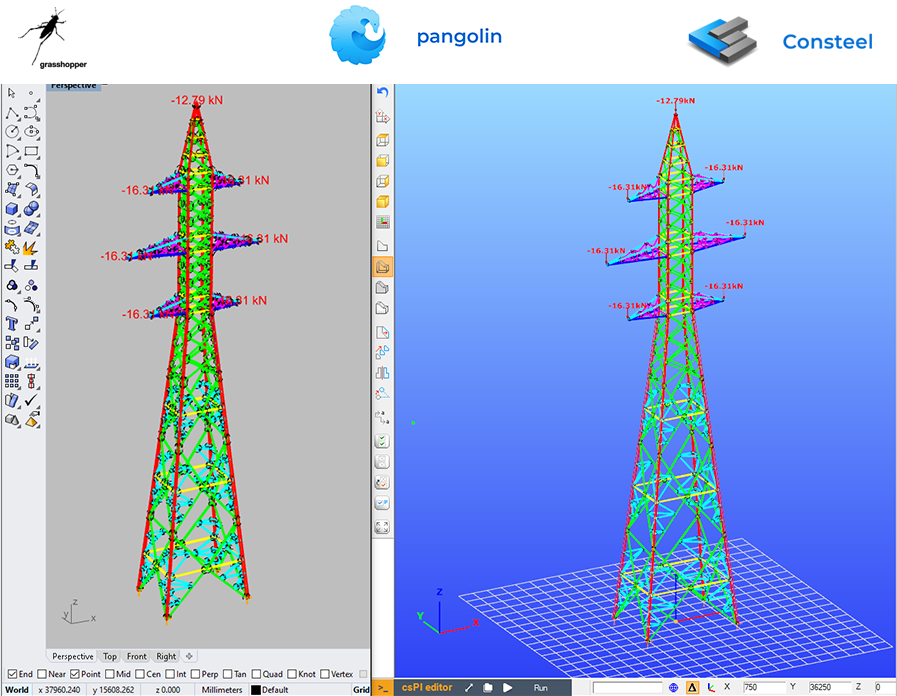 Online user account and licence system
Along with the release of Consteel 14, we are also launching our new website which will offer a continuously growing personal space for registered users so there will be an opportunity to track your licenses, to send error messages to our support team and even upload your own csPI codes. We provide a continuously expanding set of materials, including different tutorials and learning materials, some of which will be available for registered users exclusively. Our aim is to create a centralized user experience. It is important to note that uploading csPI codes will only be available later in time.
Regarding our self-developed online license management system, the main advantage in this development is that from now on there is no need to differentiate between a local and a network license, as the user can use the purchased license on any computer where an internet connection is available. For larger companies where multiple licenses are used, a user with administrative rights can control the allocation of licenses to each engineer. This will make the use of licenses much more flexible within the company.
It is important to note that this option will only be available to students and trial users for the time being. However, in addition to continuous improvement, we will gradually make it available to other users in the future. The hardware keys used so far remain usable. It is up to the user to decide whether they want to switch to the new licensing mode and return their dongle or stay with the previous protection system.
We hope you like our new developments and features!
Is Consteel new to you?
Get started with one of our easy and quick tutorials on our YouTube channel!
youtube
These days everyone is getting prepared for something: the children are waiting for the summer break, university students are preparing for their last exams, the rest is waiting for re-openings. We at Consteel, we are busy with preparing Consteel 14, along with Pangolin (Consteel's new Grasshopper plugin) while still working from our homes.
We did a small interview with a few of our colleagues on the getting-ready phase.
How do you feel about Consteel 14 on a scale of 1-14, where 1= Meh 14= I can't wait for the users to see it! ?
The team's answers average is 11, which means we are pretty close to the finish!
Let's see what our colleagues, working in different areas said.
Software Engineer
What are you responsible for, regarding the new version?
Pangolin, and the new Managed API underpinning it.
Pick something that you did (and is related to Consteel 14) and are especially proud of?
The Managed API, which will make programming ConSteel models from the outside possible in the ubiquitous .Net framework.
What are you working on right now?
Can you remember the hardest part during the development of something for Consteel 14 (if you want to / can name such)?
Solving various conflicts between Consteel's and Grasshopper's design philosophy in a non-confusing way.
Can you remember the greatest moment during the development of something for Consteel 14 (if you can/would like to, you can explain it a bit)?
Calculating the first 100% Pangolin created model.
How far away in time does the launch feel like?
How do your workdays look like? (Are you getting busier and busier each day or is it constantly easy/hard)?
Busier and busier as every change affects more and more.
Recommendation for the users to check out first after downloading Consteel 14?
Anything else, that you would like to share about getting prepared for the new version launch?
Pangolin is immense but unrefined. The sooner and more you use it, the more suggestions and bug reports you to give us, the faster will it get better.
Development Engineer
What are you responsible for, regarding the new version?
Engineering background and functional planning for critical temperature calculation and linearly distributed surface load. coordination of the development of the new features I have tested the new features of ConSteel and created verification examples related to the new functionalities.
Pick something that you did (and is related to Consteel 14) and are especially proud of?
I think the intumescent paint design function is pretty thorough. It is unique that we calculate critical temperatures for every finite element. Also, I think it's quite reassuring that we automatically check back the critical temperature with the design utilization. It was a team effort, so I can't take all the credit, but I think it turned out great.
What are you working on right now?
Testing of design calculation improvements.
How far away in time does the launch feel like?
Feels like it's right around the corner compared to the months of development.
How do your workdays look like? (Are you getting busier and busier each day or is it constantly easy/hard)?
Software Engineer
What are you responsible for, regarding the new version?
Coordination of the development of the new features I have tested the new features of ConSteel and created verification examples related to the new functionalities.
Pick something that you did (and is related to Consteel 14) and are especially proud of?
Load distribution of the linear surface load, calculation of the critical temperature.
What are you working on right now?
Can you remember the hardest part during the development of something for Consteel 14 (if you want to / can name such)?
Correcting the wrong codes of someone else.
How far away in time does the launch feel like?
Recommendation for the users to check out first after downloading Consteel 14?
Development Engineer
What are you responsible for, regarding the new version?
I have tested the new features of ConSteel and created verification examples related to the new functionalities.
Pick something that you did (and is related to Consteel 14) and are especially proud of?
I have written the system design document of the Beam – Beam Link Element.
What are you working on right now?
I am working on the verification of the effective section properties of the cold-formed sections.
How do your workdays look like? (Are you getting busier and busier each day or is it constantly easy/hard)?
Sometimes it is very easy, but there are days when I am very busy.
Software Engineer
What are you responsible for, regarding the new version?
Developing the smart link / beam-beam link feature, testing other new features, writing descript code.
Pick something that you did (and is related to Consteel 14) and are especially proud of?
Smart link / beam-beam link.
What are you working on right now?
Can you remember the greatest moment during the development of something for Consteel 14 (if you can/would like to, you can explain it a bit)?
When the engineering team is vocally satisfied.
How far away in time does the launch feel like?
How do your workdays look like? (Are you getting busier and busier each day or is it constantly easy/hard)?
It's definitely getting busier
Recommendation for the users to check out first after downloading Consteel 14?
Smart link / beam-beam link 🙂
UX/UI designer
What are you responsible for, regarding the new version?
New website's design and some other design related material.
Pick something that you did (and is related to Consteel 14) and are especially proud of?
What are you working on right now?
Refreshing our product brochures.
Can you remember the hardest part during the development of something for Consteel 14 (if you want to / can name such)?
Designing the new website.
Can you remember the greatest moment during the development of something for Consteel 14 (if you can/would like to, you can explain it a bit)?
When I finished the logo for the Pangolin plugin.
How far away in time does the launch feel like?
How do your workdays look like? (Are you getting busier and busier each day or is it constantly easy/hard)?
It's like a roller coaster from January. But with deadlines approaching, it becomes busier.
Recommendation for the users to check out first after downloading Consteel 14?
Register on our website. 🙂
As you can see, Consteel 14 will be out soon, and its development happens with multiple dedicated experts' input. We can't wait for the launch, stay tuned to get notified when you can access Consteel 14!
The annual ConSteel distributor meeting took place in Budapest in early February 2020.
The meeting was about reviewing 2019, assessing the results of the past year and to discuss the plans for 2020.
Our goals for the new year were set, which we presented to the distributors, as well as the new programs and opportunities of ConSteel were introduced.
Besides, the meeting allowed everyone to grow their international relationships. We are glad that last year two distributor partners joined the ConSteel community, representing Romania and Finland. This means that two more countries have direct Consteel contacts and support providers in their homeland, which is a great benefit for the users.
This year six of our distributor partners participated in the event, representing Greece and Malta, Germany, Romania, Poland and Spain.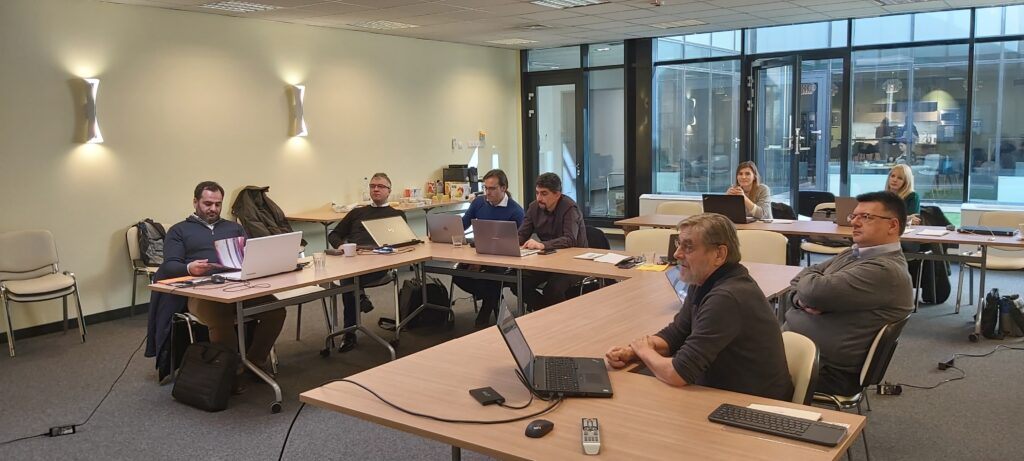 On day one, the marketing and sales tasks were on the table, besides the annual reports and set goals were discussed, then the partners participated in a workshop to share their opinions and ideas about ConSteel's existing and future developments.
We announced the winner of the ConSteel Distributor of 2019 award: this year the winning partner was ERGOCAD from Greece. The company has been a leader in licence sales for years as well as they take care of keeping the good reputation of ConSteel with their expert communication.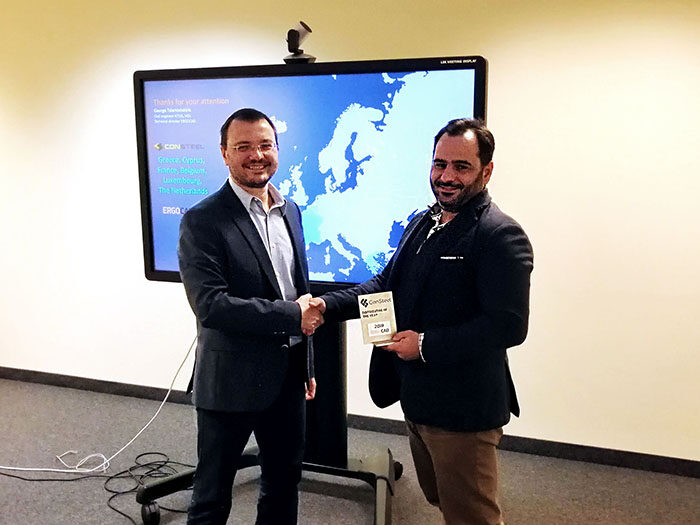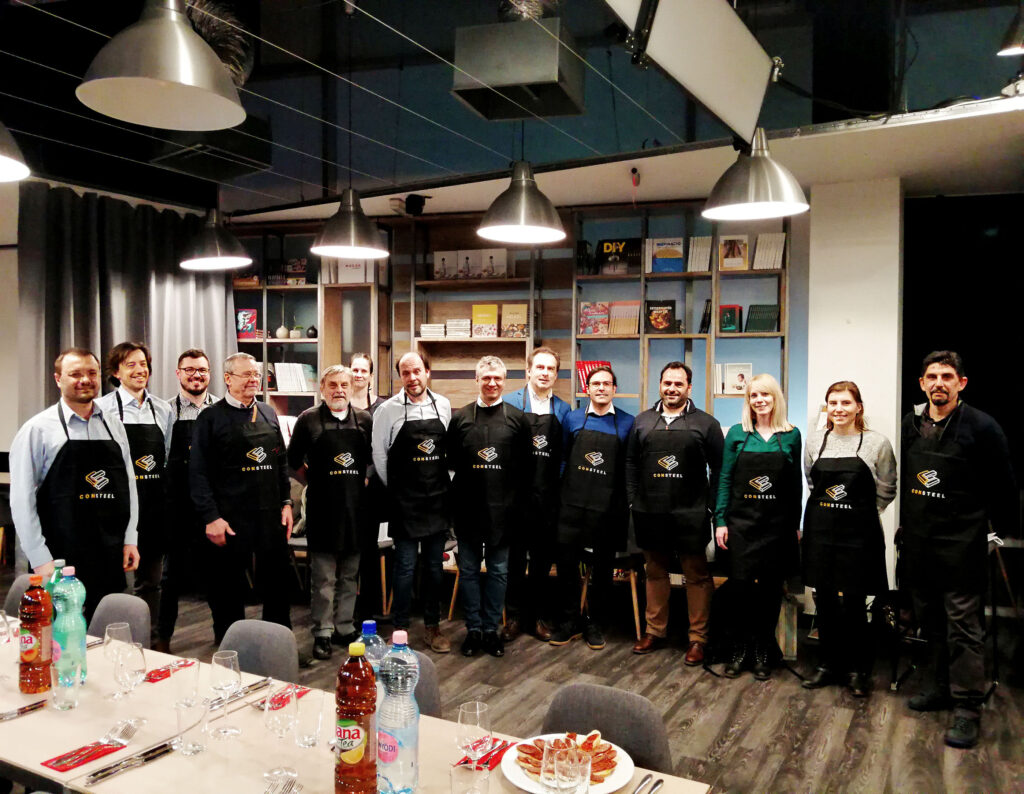 On day 2 the meeting took place in a SkyBox Conference room in the recently built Puskás Ferenc Stadium.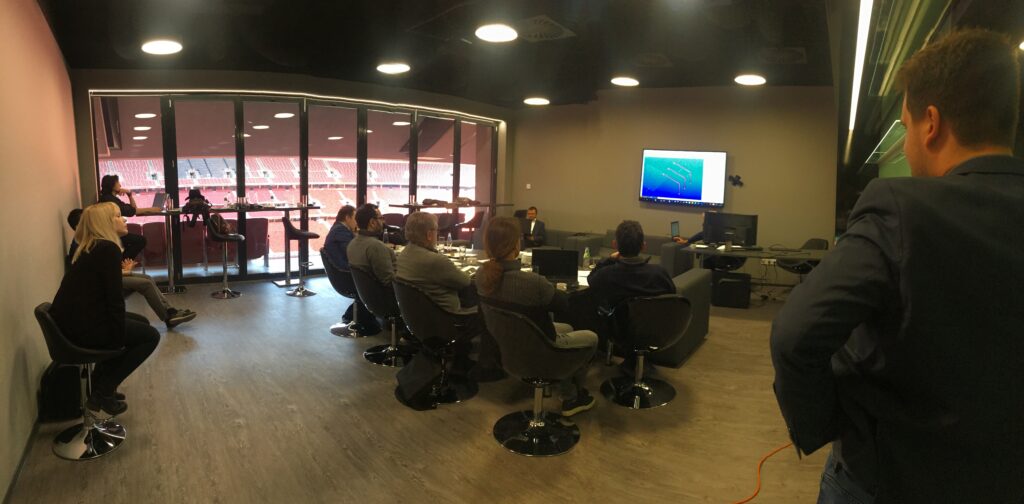 This day was dedicated to present the new directions of the developments and innovations of the software which the parters greeted with genuine interest. The novelties of the upcoming version of ConSteel, ConSteel 14 were presented, as well as other developments and software relations were introduced.
As a final program of the meeting, we had a tour around the stadium, being able to visit the highest point – built with beautiful steel structures, the VIP areas and the pitch as well.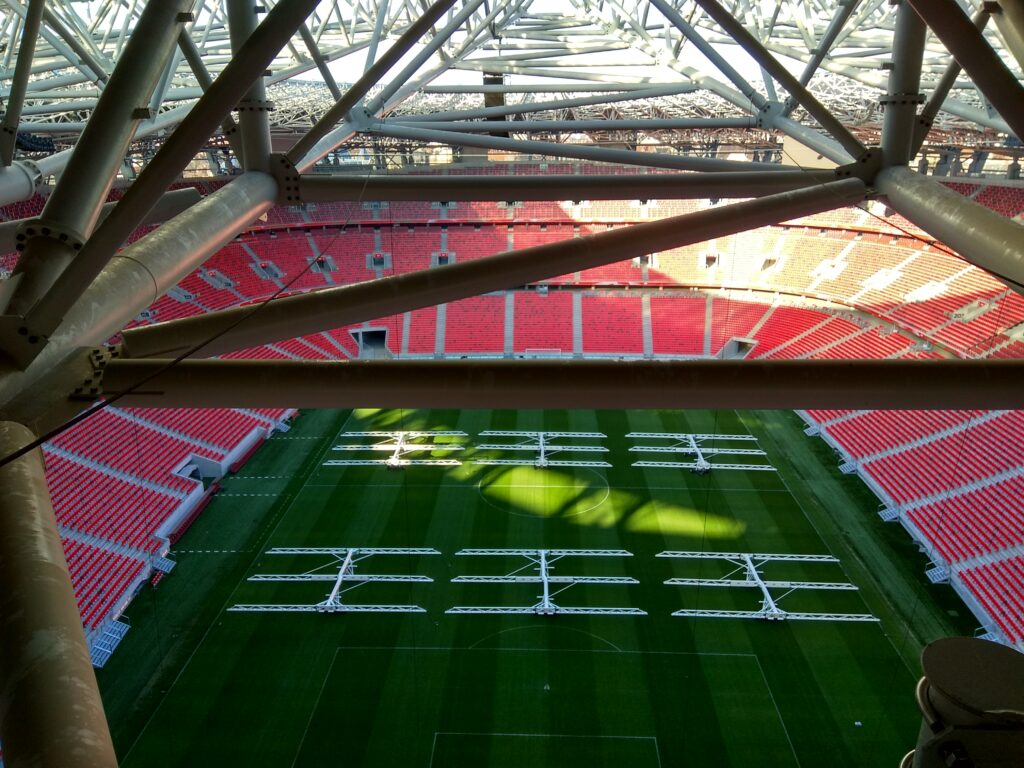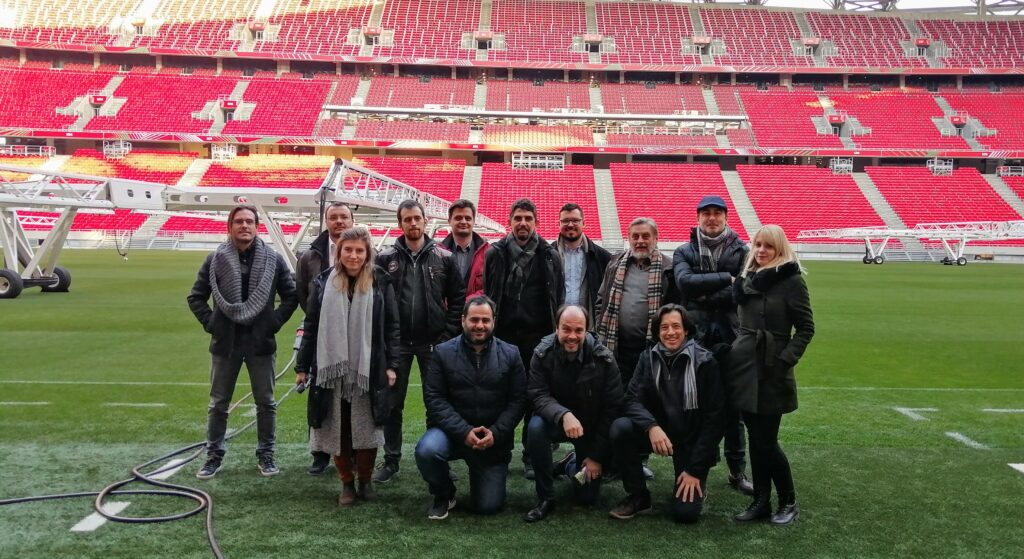 Örömmel jelentjük be, hogy a ConSteel Solutions Kft. vezetésével benyújtott "CFSExpert" K+F projekt támogatást nyert az EUROSTARS-2 program keretein belül, illetve a megfelelő magyarországi Nemzeti Kutatási, Fejlesztési és Innovációs Hivatal által meghirdetett "KÖZÖS EU-S KEZDEMÉNYEZÉSEKBE VALÓ BEKAPCSOLÓDÁS TÁMOGATÁSA" pályázaton.
A ConSteel nyertes pályázatának értékét jelzi, hogy az EUROSTARS-2 programban eddig összesen 22 magyar cég nyert (ebből mindössze 4 magyar konzorciumvezető) 182 pályázóból, ez csupán 12%-os nyerési arányt jelent, továbbá a legutóbbi 11. felhívásban a magyar pályázók közül egyedül a ConSteel Solutions kft. projektje nyert támogatást.
Az EUROSTARS program
Az 1985-ben létrehozott EUREKA program egy kormányközi együttműködés, melynek célja az európai ipar termelékenységének és világpiaci versenyképességének erősítése piac-orientált K+F tevékenység támogatásával nemzetközi együttműködési projektek formájában. Ezen belül helyezkedik el a 2007-ben indult EUROSTARS program, mely innovatív, jelentős növekedési potenciállal rendelkező, K+F tevékenységet végző kis- és középvállalkozásokat támogat, nemzetközi együttműködésben megvalósuló K+F projekteken keresztül. Az EUROSTARS-1 program 2007-2014 között működött, jelenleg az EUROSTARS-2 (2015-2020) fut, ahol eddig a félévenként meghirdetett 11 felhívás során beadott közel 3.800 pályázatból 899 kapott támogatást (29%-os nyerési arány). A programok sajátossága a piacorientáltság, azaz a magas szintű K+F tartalom mellett megalapozott marketing stratégiát és üzleti tervet is be kell nyújtani. A pályázatokat központi EU-s elbírálás állítja sorrendbe, az értékelést független nemzetközi szakértőkből álló bizottságok végzik.

A nyertes projekt
Cím: CFSExpert – Structural design tool for cold-formed steel structures
Konzorcium:ConSteel Solutions Kft. – Magyarország – konzorciumvezető
Temesvári Műszaki Egyetem – Románia
Gordias Srl. – Románia
Megvalósítás:2020.01.01 – 2021.12.31
A projekt célja egy speciális szoftver kifejlesztése hidegen alakított acélszerkezetek (Cold Formed Steel – CFS) hatékony, szabványos tervezéséhez. Fontos célkitűzés egy olyan méretezési eszköz kifejlesztése, amely egyrészt a legmodernebb, elérhető számítási és méretezési eljárásokat integrálja gyakorlatorientált módon, valamint jelentős módon kiszélesíti a jelenlegi szabványos tervezési módszerek (Eurocode EN 1993-1-3 szabványkötet szerinti) alkalmazási korlátait. A szoftver egy olyan innovatív tervezési folyamaton alapul, amely integrálja a CFS szerkezeti elemek korszerű mechanikai számítását (korlátos véges-sáv módszer, Constrained Finite Strip Method – cFSM) a meglévő és újonnan kifejlesztett méretezési eljárásokkal. A szoftvereszközök három szinten kerülnek bevezetésre különböző típusú célfelhasználók számára, ugyanarra a kifejlesztett új, innovatív tervezési módszertant alkalmazó belső számító-méretező motorra épülve. Ennek megfelelően a projekt fő K + F eredménye ebben a közös, speciális számítási motorban van, de a hatékony marketing és értékesítési folyamatok támogatása érdekében azt is célul tűztük ki, hogy ez három különböző típusú célszoftverben kerüljön megvalósításra és piacra. A CFSExpert Structure egy tervezési csomag, amelyet a ConSteel 3D számító és méretező szoftverbe építünk be egy kiegészítő modulként általános 3D acélszerkezeti modellben elhelyezett CFS szerkezeti elemek tervezéséhez. A CFSExpert Member egy önálló szoftverkonfiguráció, amely egyetlen szerkezeti elemet kezel, egy- vagy többtámaszú statikai modellben, speciális grafikus bemeneti és kimeneti jellemzőkkel, amelyek csak CFS profilokra korlátozódnak. A CFSExpert Engine egy "fekete doboz" számítási motor, grafikus felhasználói felület nélkül, de szabványos, könnyen használható bemeneti-kimeneti interfésszel, amely alkalmas bármilyen meglévő vagy új fejlesztésű egyedi tervezőszoftverbe való integrálásra. Határozottan úgy véljük, hogy ez a három különböző szoftver-megvalósítás a leghatékonyabb módja a gyakorló mérnökök széles körének kiszolgálása a számítási motorban bevezetett innovációval.
---
Sajtóközlemény
A CFSExpert fejlesztése 
Az építőiparban növekvő tendencia mutatkozik hidegen alakított acélszerkezetek (Cold Formed Steel – CFS) széleskörű alkalmazásában a kedvező súly és gyártási eljárások és a kivitelezés hatékonysága miatt. Ugyanakkor az ilyen típusú szerkezetek mechanikai viselkedése rendkívül bonyolult, és nem létezik hatékony szoftver alkalmazás a teljes tervezési folyamat támogatására, így a vállalatok általában költséges kísérleteket végeznek a szerkezetük megbízhatóságának bizonyítására. Egy megfelelő tervezési eszköz komoly segítség lehet azoknak a vállalatoknak, amelyek nem tudnak költséges kísérletekbe fektetni, de szeretnék használni a CFS elemeket szerkezeti termékeikben. A projekt során ezért integrált számítási és méretezési szoftvert fejlesztünk ki a CFS szerkezetekhez. A nagyon korlátozott, de mégis meglehetősen bonyolult szabványos tervezési eljárásokat a legújabb kutatási eredmények és saját fejlesztések alapján modern módszerekkel egészítjük ki, amelyek hatékony és versenyképes eljárásokat eredményeznek. Ezeket a magas szintű számítási folyamatokat a gyakorlati mérnökök nyelvére fordítva integráljuk a könnyen használható modellezési és számítási eszközökkel a teljes és hatékony tervezési megoldás érdekében. A jelen kutatás-fejlesztés eredményeként létrejövő CFSExpert szoftvercsomagok a CFS szerkezetek komplex kialakítását támogató tervezési eszközök piaci hiányosságait töltik be, ezért nagy érdeklődést várunk a CFS termékeket gyártó-kivitelező ipari szektorból. Azok a vállalatok, amelyek már rendelkeznek CFS termékekkel, felgyorsíthatják tervezési folyamatukat, és ezzel a szoftverrel bővíthetik termékkínálatukat. Lehetséges piacunk nagy részét azok a vállalatok alkotják, amelyek a szoftver használatával új lehetőségeket valósítanak meg a CFS szerkezeti elemek használatában.
A CFSExpert fejlesztése projektet 2020 év elején indította el a kedvezményezett ConSteel Solutions Kft. A CFSExpert fejlesztése a Nemzeti Kutatási, Fejlesztési és Innovációs Alapból megvalósult kutatás-fejlesztési és innovációs projektjeként 65,6%-os támogatásban részesült, melynek mértéke: 68 744 379 Ft.